I have expressed my undying love for Tori Spelling's and Dean McDermott's bedroom numerous times on this blog. The walls are the most beautiful shade of blue, the nightstands are mirrored, and the linens are solid white – some of my very favorite things. It's almost like it was designed by someone who stole the thoughts right out of my brain, like an eerie episode of The Twilight Zone.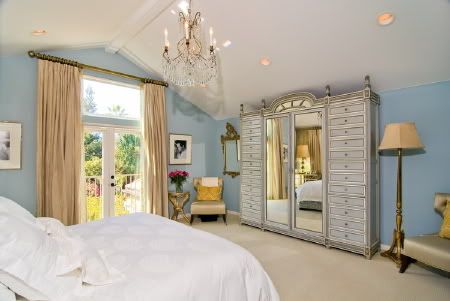 Photos from www.luxist.com
Gosh, I really love it. It's not healthy to be this obsessed with someone else's bedroom, is it?
In the months since I first posted these pictures, I have received many emails and blog comments asking me about the delicious color on Tori and Dean's walls. I have no clue what paint color it is. It's been suggested to me that it's Serenata by Pottery Barn for Benjamin Moore. I have searched and searched online to find the name of her designer, but I couldn't ever find an associated name. I figured that Serenata was a pretty good guess and decided that it must be something pretty close to that.
Fast forward to a few days ago. I follow Tori on Twitter ('cause I love reading what the celebrities tweet), and since I was still obsessing about her wall color, I decided to just take a leap of faith and ask her who designed her bedroom. I figured that I would never in a million years hear back and I'd just look like a fool to the people on Twitter, but I hoped I could email her designer and ask if he/she remembered the paint color on Tori's walls. Imagine my surprise when I received this in my Direct Message box within about two minutes:
After getting over the initial shock of Tori Spelling actually reading my tweet and responding to me (how cool is that, y'all?), I was so excited to finally have
THE
information!
So, for all of you who have wondered, the paint color in Tori and Dean's bedroom is Parma Gray by Farrow & Ball. I promptly ordered a free colour card from Farrow & Ball so that I could have a Parma Grey swatch to color match for a test sample (at around $80-$125/gallon, the F&B; paint is entirely beyond my budget). I cannot wait to get it in the mail!
My 13-year old 90210-obsessed self would never have believed that technology would advance to the point of Donna Martin and I discussing her bedroom. I'm very impressed with Tori for designing this gorgeous room herself. Well done, Tori, and thanks for being so cool!