When our 3 1/2 year old decided that he didn't need to take a nap any more, the evenings in our house got considerably harder. Just about the time my husband got home from work, Zack took a trip to Meltdown City. It was all we could do to eat dinner as a family and get Zack bathed and in bed without multiple timeouts. Needless to say, we were all jonesing to get nap time back.
It wasn't that I didn't encourage Zack to take a nap every day. In fact, we had a 1 1/2 hour "quiet time" every day where he was supposed to stay in his room and play with his quiet time boxes, but it was very bright in his room in the middle of the day. Zack's one of those kids who needs it to be completely dark to sleep, so this just wasn't working for us. The faux wood blinds in his room were letting in too much light, even when they were closed.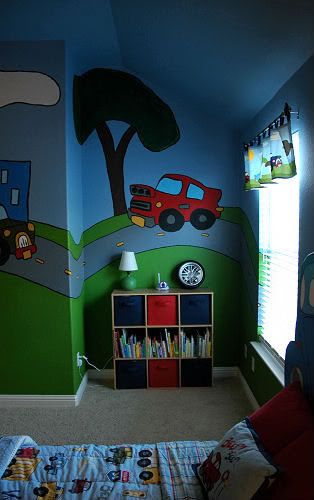 I checked out the blackout panels in the stores, but it would have cost me $40 for a cheap set, and I didn't particularly like the way they looked. So, naturally, I decided to make my own.
I started with a set of cheap navy blue curtain panels and an even cheaper black twin flat sheet. The pair of curtains was about $18 and the flat sheet was around $4. I definitely wanted to use darker colors, as I figured that would help with the light situation.
My curtain panels were each about 40 inches wide, so I cut the sheet to have 2 pieces that were about 41 inches wide. That made the sheet pieces about 66 inches long (because the dimensions of a twin flat sheet are about 66×96). It was okay that my sheet wasn't as long as my 84 inch panels because the window doesn't go all the way down to the floor and light doesn't come through the wall. Did you follow that?
Because the sheet had four finished (hemmed) sides, I only had to hem one side of the sheet for one panel and two sides for the second panel. The sheet was longer than I needed it to be after my two 41 inch wide panels, so I had to make two cuts for the second sheet piece. I pressed a double hem into the raw edges and ran it through my sewing machine. You could definitely use no-sew hemming tape to do that, too. The most important thing is that the finished size of each sheet should be slightly smaller than the finished size of each curtain panel.
Next, I pinned the sheet pieces to the back of the curtain panels, making sure they both laid flat. I pinned the top and sides together but left the bottom open, since I wasn't going to sew them together on the bottom side.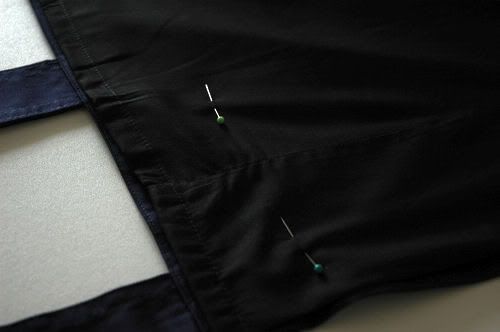 I seamed them together on my machine, following the original hem lines on the panel as best I could. Again, you could use hemming tape. And as always, I'm making this seem way more difficult than it actually is.
Lastly, I bought some cheap trim at Hobby Lobby and stitched it onto the inside edge of each finished panel. I wanted to make the cheap panels look a little more custom and fun. I think the trim was around $1 a yard.
I bought a longer curtain rod than I needed for the window so that the panels would stack nicely on either side of the window when they were curtains open. I found that with the "right" size rod on that window, the curtains were so full that they stacked over the window, thus making the window look tiny when the panels were open.
Now, for the true test. Here's the non-nap inducing light with the curtains and blinds open.
And here's what you see now in the middle of the day when the curtains and blinds are closed. This picture was taken around noon.
People, I kid you not. If his curtains and blinds are shut, you literally have to turn on a lamp in there to see anything! It's like a little "Zack cave!" He has a lamp on his nightstand that he uses to read, so please don't think I stick my child in the pitch black room all alone. He reads his books, turns off his light, and takes a restful nap.
And Mama does a little happy dance.
The evenings in our home are definitely easier because Zack has gotten some mid-day rest and isn't Mr. Crabby Pants. Okay, he doesn't nap every day, so he is still Mr. Crabby Pants sometimes, but not nearly as much as he used to be. Hooray!