Today, I got down on my hands and knees and scrubbed my tile floor with a toothbrush.
No, I'm not Cinderella, although I may be channeling her from last weekend's trip to Disney World. I was actually preparing the grout on my tile floors to be resealed.
If I asked you, "When was the last time you sealed/resealed the grout on your tile floor?," how would you answer?
A. Within the last six months
B. Um, it's been a while
C. I think we did it when our tiles were installed
D. I don't know what you mean by "resealed the grout"
If you answered A, then ding, ding, ding! You're a winner! You can skip this post and move on to something more fun. If you answered B, C, or D, then please read on.
The 411 on Grout Sealing
When tile floors (and backsplashes and bathroom walls) are installed in a home, they are most often left unsealed. What this means is that your grout will suck in dirt, spills, and stains like a magnet. Clearly, this is no bueno.
Sealing the grout is extremely easy and requires little effort beyond painting a straight line. Once the grout is sealed, spills and stains literally bead up and make it a million more times easier to clean.
I suggest you work on one room or section at a time. For instance, today I sealed our entry way. Tomorrow, I will do the kitchen and breakfast room. Perhaps Thursday I will do the bathrooms. Breaking it into sections like this means you don't have to turn over your whole afternoon to the grout sealing endeavor.
Before you get started sealing, you'll need to clean the grout so that you start with a clean surface. If your grout is mostly free from stains, you can use a mix of warm soapy water (I use liquid dish detergent).
Steps to Clean Grout:
1. Inspect your grout and look for stains that will need extra attention. Make a mental note of those areas.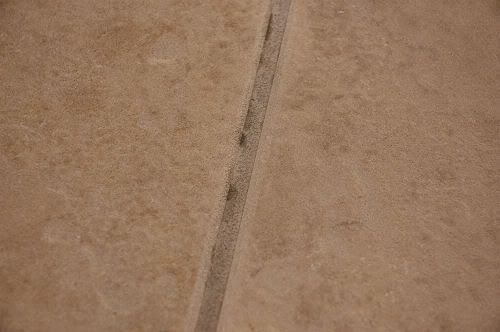 2. Dip an old toothbrush into your warm soapy water mixture and scrub the grout, paying extra attention to the areas you noted above.
I have found it easiest to work in line segments, scrubbing one entire grout line at a time. It's also faster if you have a helper join in on the scrubbing, although it would be better if said helper had an attention span longer than 3 minutes.
The process won't take long at all. It took me about 15 minutes to complete a 30 square foot area (and would have only taken about 10 minutes if I didn't have Zack's help).
3. Allow the grout to dry for about 45 minutes (the grout is a darker color when wet, so you can tell when it is dry). After it's dry, inspect again and scrub any places where stains remain.
If you still can't get the stains off, you can buy a cleaning solution, such as this one which is made specifically for cleaning grout.
Once the grout is clean and dry, it's time to seal it! We strive to reseal our grout every six months (since it does eventually wear off), although I'll admit it's been much longer that that since the last time we did it.
You'll need to purchase some grout sealer at a home improvement store. There are several different kinds of sealer, but I prefer a penetrating sealer. This means that the sealer will keep spills and stains from soaking into the porous grout. You will also need a means to apply the sealer – you can use a small paintbrush, or a brush-tipped bottle or roller-tipped bottle specifically made for sealing grout.
Steps to Seal Grout:
1. Paint or roll the sealer onto the clean, dry grout. If your grout is newly installed, you'll need to wait about 48 hours before you can seal it.
Apply liberally so that it forms a little river in the valley between the tiles.
2. Just as when you cleaned the grout, it's easiest to work in line segments. This process will be much faster than the grout cleaning. It took me about 5 minutes to seal my 30-square foot section.
3. When you have finished sealing the grout, allow the solution to soak in for about 10 minutes. Then, use a microfiber cloth, towel, or old t-shirt to wipe the excess solution off of the grout and tiles.
4. The next day, run a wet mop over the area you sealed, just to make sure you got up all of the excess solution. You may see a white residue on your tiles from the excess sealers, but it will come off when you mop.
5. Repeat the process of cleaning and sealing in about 6 months!
You will be so amazed at how much easier it is to clean spills off your tile floors once the grout has been sealed. A few hours of work a twice a year will help make your floors look brand new! The difference in the how the newly sealed hallway floor looks when compared with my needs-to-be-sealed kitchen floor is night and day.
Have a tip that really works for you? Join Kristen for Works for Me Wednesday at We Are That Family!