By now, you probably know that I spent six days repainting my son's room last week. Six days. You must think I'm a terrible, terrible painter for it to take me six days to repaint a bedroom. I would totally think that about me, too.
You have also probably figured out that I was here in my house alone for all that time. My husband took our son for a week up to his family's lake cabin in Minnesota. I don't do cabins, cold weather, or creatures, so I decided to stay behind and work on a huge surprise for Zack. I didn't want to advertise it on the Internet, because, well, people are crazy and I didn't need some freaky person trying to break in while I was painting, drinking wine, and listening to Top 40 radio.
When I was finished with the room (exactly one hour before I had to leave to go pick up my boys from the airport, I might add), I calculated the hours it took me to pull off this transformation. The answer? Forty-eight. It took me a total of 48 hours to repaint the room. And no, it wasn't because of the wine.
Here is the before picture so you can see where I started.
It was because I have a bad habit of taking a simple task and turning it into an extreme.
I decided to do something more dramatic than simply painting his four walls a color different than our builder's beige. He's a fun and highly energetic three year old, and his room needed to match his personality. I took the concept from his bedding collection (which is the Hit the Road collection found at Target) and just ran with it.
Inspired by the lampshade in the collection, I transformed Zack's room from builder's brown to his very own town.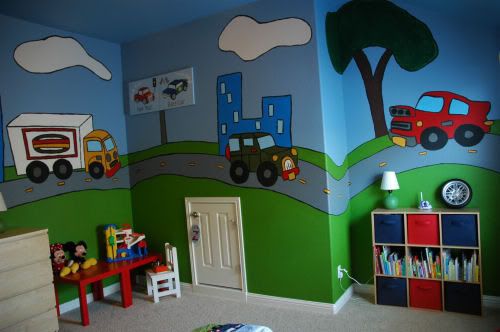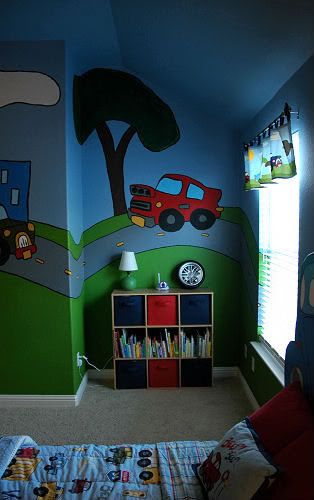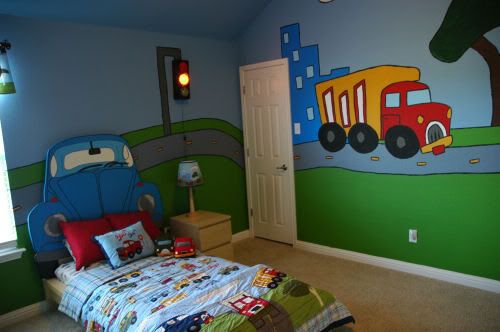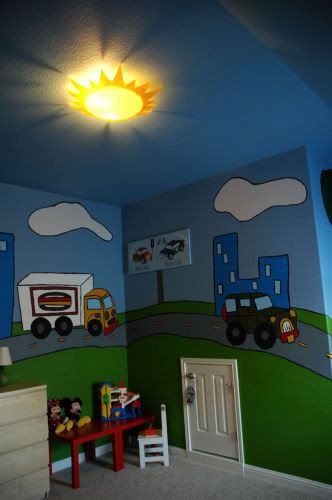 Zack is absolutely over the moon with his new room. He was so surprised when he walked in that all he could say was, "WOW" as his jaw hit the floor. He absolutely loves it, which makes all the hours and sore muscles totally worth it.
I probably spent about $150 total (well, and 48 hours of my life) on the transformation:
1. The paint is from Sherwin Williams (Resolute Blue, Gecko Green, and Storm Cloud) and went on the walls like a dream. I think I paid about $80 or so for paint (I bought the Duration line when it was on sale). It was my first time using Sherwin Williams paint, and I will definitely use it again.
2. I bought two LACK end tables ($7 each) from Ikea and turned them into a little table in the corner of his room.
3. The sunshine ceiling lamp ($20) replaced the builder's mushroom light that was in his room; I cannot get over the terrific "rays" of light it casts on the ceiling. I just love it.
4. The flashing stoplight was about $18 at Walmart and is the perfect touch to complete his little town.
5. I was even able to find a spot for the two ugly $3 lamps I bought on clearance at Walmart a while back. I bought them for their shades, and I'm so glad to have found a place to put them. The green bases are an exact match to the green paint. I did have to buy two new shades ($4 each at Ikea) to replace the ones I "stole" from them originally!
There are still a few things I want to do in there — new window treatment, add a rug, and put knobs on his dresser and nightstand drawers — but I'm so pleased with the transformation! What do you think?
P.S. A huge THANK YOU goes out to my friend Kristi who kept me company this weekend and painted with me for a few hours. Kristi, as always, you rock! I appreciate you keeping me from carrying on the one-way conversations with my dogs. I was starting to get irritated with them for not talking back.
P.P.S. I'm also adding this to Kimba's DIY Day Linky party over at A Soft Place to Land. This was a DIY challenge like none that I have ever experienced!