A few weekends ago, we held a birthday party for DS at Build-A-Bear Workshop. He loves going there to get a new bear, and we figured a lot of his friends would like it as well. Surprisingly, many of them had never been to BABW before, so fun was had by all.
He built a really cute little bear that he went on to name "Floor Mop." I wish I was kidding, but I'm not. The kid is either hilarious or crazy. I haven't decided which one. At least he's adorable, which always seems to be his saving grace.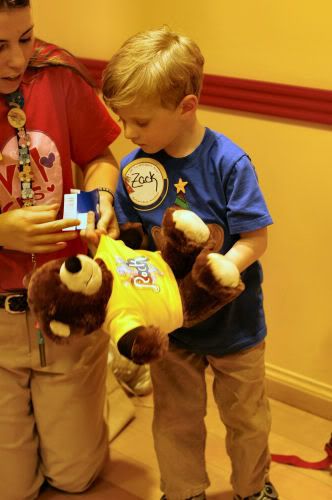 I like to do very theme-y birthday parties, because, well, of course I do. I found BABW placemats, napkins, and plates at Birthday Express. I even appliqued a tee for him that matched his invitations. However, I couldn't really find anything to use for cupcake toppers. The crafty diva in me just had to come out to play. You can do this, too!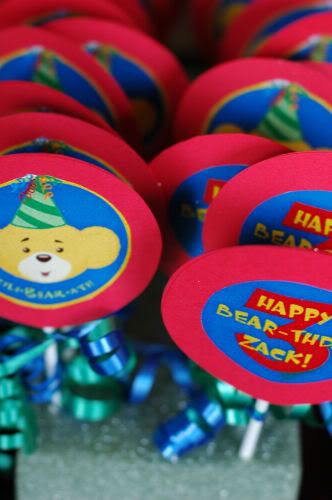 I printed out the "Cele-Bear-Ate!" image from the Internet (it also matches the invites) and created the "Happy Bear-thday Zack!" image on my computer (I use
GIMP
for tasks such as this, because I love it and it's FREE!). I then used one of my kitchen glasses and traced out larger circles on red cardstock. Yes, I traced. I'm too cheap to buy one of those $20 circle punches at the craft store. I'm old school like that. I traced two red circles for each cupcake and then cut everything out.
I grabbed my glue stick, some Scotch tape, and a package of lollipop sticks I picked up at the craft store and got to work. I used the glue stick to glue each of the printed circles onto a red circle. I then taped the lollipop stick to the back of the "Cele-Bear-Ate!" circles and used the glue stick on the edges of it to attach the "Happy Bear-thday Zack!" circles. It makes a little red circle sandwich. The red circles aren't fully attached to each other around the area of the stick (if you can visualize that), but that's okay.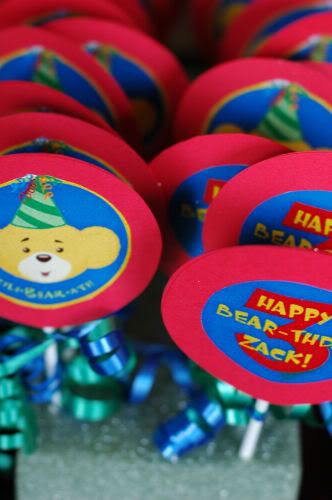 Because I don't know when to stop (moderation is a
serious
issue with me), I used some spray glitter to make each side a little shimmery and tied matching curling ribbon to the bases of decoration.
When we reached our party location (aka the mall food court since no food or drink is allowed in BABW), I added the cupcake toppers to the cupcakes. I think they ended up being super cute little centerpieces all on their on.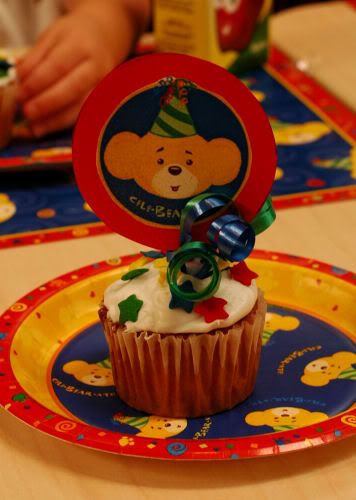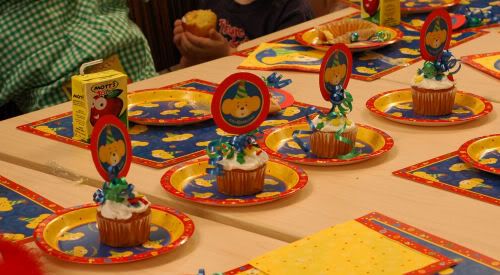 DS and his (14!) little buddies seemed to enjoy them. I even saw a few parents taking the toppers home as souvenirs. 😉
Happy Third Birthday, Zack! I find it hard to believe that you've already been in our life for three years. It just blows my mind, but it's been the best three years of our lives.
P.S. Until now, I've always referred to Zack as "DS." I don't know why. It's not like I'm scared of his name being on the Internet or something. I guess the cat is out of the bag now. LOL My DH is named Tom, just in case you ever wanted to know. My social security numbers is…just kidding. 🙂