Before our Zack was born, Tom and I had a set of really awesome coasters from Crate and Barrel in our living room. They were slate and chunky and natural and cool. I loved them.
Then, like the second Zack was born, we tossed them in the trash. They were slate and chunky and natural and cool, and definitely dangerous to our newborn. There was no telling what he could do with them – put out an eye, crack his head open – you know, endless possibilities of danger.  Ha!  First time parents.
We've been without coasters for nearly 3 years now. We didn't really care because we had old cruddy end tables. However, we bought new end tables about a month ago, and I've been making Tom put his Diet Pepsis on notepads and magazines so they wouldn't leave a ring. We needed coasters before I became Joan Crawford-esque by yelling, "No drink rings on the table!!"
Have you been in the market for coasters lately? I found this one:
And this one:
And then this beauty:
Um, no me gusta. Are you kidding me? And more importantly, who is buying these?!?Anyway, I figured that the perfect solution was to make my own. It's really a pretty easy thing to do.
I bought 6 cheap ceramic tiles (they were 16 cents each!) and some felt dots at Home Depot. Then, I went over to Michael's and picked up 2 sheets of 12×12 scrapbooking paper that matched my living room decor, a bottle of coordinating acrylic craft paint, a foam brush and a bottle of Mod Podge.
I laid out a garbage bag so I wouldn't ruin my kitchen table with the glue. Don't use paper towels or newspaper. They will stick to the tiles when you put the Mod Podge on them, and it will make a huge ugly mess. Don't ask me how I know that.
Next, I used the foam brush to spread a thin layer of Mod Podge onto the tiles and then centered a square of paper on the top. I smoothed any bubbles out with my fingertips.
Once the paper was applied, the tiles looked like this:
I let the Mod Podge dry for about 20 minutes, and then I broke out my brown paint. I wanted to paint the edges of the tiles and the edges of the paper so that they looked a little worn. I used a dry paper towel to wipe off any extra paint on the paper. You could use colored tiles, stone tiles, or just leave just leave the edges white if you don't want to paint them.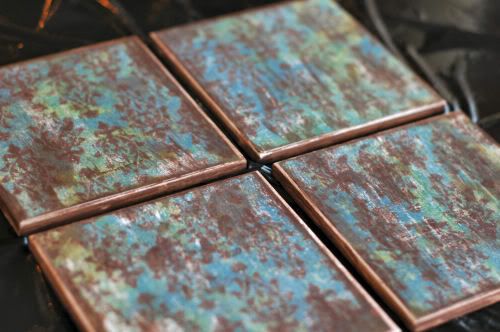 Lindsay tip: Did you notice that I started with six tiles and now only have four? That's because I dropped one on the floor and broke it (doh!) and put too much paint on a second one and it looked awful (double doh!). Since this project is so cheap, buy a couple of extra tiles, just in case.
After the paint dried, I applied a coat of Mod Podge to the top and let it dry for about 20 minutes. I repeated that process five more times for a total of six coats. I used the "hard coat" Mod Podge, so that it would really seal the paper and make a solid surface.
Once the tiles were dry, I added four felt dots to the bottom so that they wouldn't scratch my tables. See? You can even see my sloppy paint job! No one is ever going to see the bottom of your coasters, so it doesn't really matter.
One last Lindsay tip for you: According to the bottle, the Mod Podge takes about a month to fully cure. I normally don't believe in little things like directions, so I just ignored that and put my coffee cup on a coaster this morning. Well, the hot mug stuck to the coaster! I guess because the Mod Podge hadn't fully set, the hot beverage heated it and made it sticky again. It's fine now and they work great with cold drinks, but I don't think I'll be putting any hot mugs on them for about a month!
Now, my tables are protected from those evil drink rings. I'm not sure these are actually any safer for Zack, who will probably now use them as weapons, but they sure are cute.