I've been a bit quiet this week, because I'm working really hard on my Procrastinators' Party projects. I am so excited about how much work I've already done, and I can't wait to share them with you next Thursday!
The largest project has involved some major priming and painting. Today as I was painting away in my garage in the 90 degree/90% humidity Texas heat, my mind started to wander. No, I wasn't about to have a heat stroke (although seriously? So hot already? It's only May for crying out loud!), although it felt like it could happen at any minute.
I actually started thinking of all the little painting tips I've learned throughout the years. It is all routine for me now since I've been painting for a while, but at one point painting was not so easy. In an effort to help you avoid my mistakes and to make painting a little easier for you, I'll let you in on a few of my little secrets. I'm nice like that. You see, I didn't read any of these tips on the Internet, a DIY book, or learn them from the guys at Home Depot. These are all lessons I've learned myself…the hard way.
1. Tack Cloths Make for Sticky Hands – I really love using tack cloths on my projects after sanding and in between every coat of paint. Since I discovered them, I can't paint without them. They really do remove dust and particles much better than a microfiber cloth or anything else I've tried. The good and bad thing about them is that they are sticky, so they make your hands or gloves very sticky, too.
I hate the feeling of sticky hands, so I used to go inside and wash my hands after every swipe of the tack cloth. Then, I realized I could put a paper towel on top of the tack cloth and save my hands from the curse of the sticky.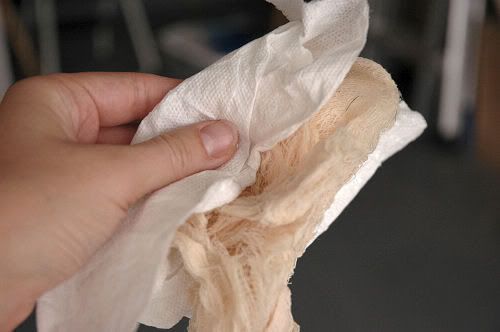 This technique saves a lot of valuable time when you only have a small Zack-Is-Napping-So-Now-Is-The-Time-To-Paint window.
2. Use Disposable Products When You Can – This tip is definitely not very "green" of me, but it makes panting 95% less of a hassle. I have ruined so many bristle paint brushes by not completely rinsing the paint out of them and almost ruined some projects by using old, crusty brushes.
Now, I use foam brushes, disposable paint tray liners, and plastic Solo cups. For large projects where I will be using foam rollers (the handle is easily cleanable, but the roller itself is not), I pour the paint into a disposable paint tray liner and work from there. If I'm just using small foam brushes, I pour the paint into a plastic cup.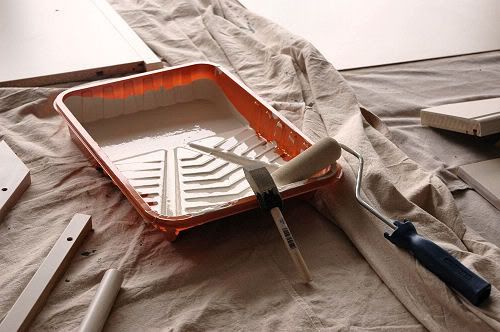 When I'm finished painting for the day, I put the foam brushes, cups and liners into a plastic grocery bag and throw the bag in the garbage can. The next day, I use a new brush and liner and start over. It really makes cleaning up a cinch.
3. Pouring Paint is Easier With a Spout – There is just something about pouring paint from a gallon can into a liner that makes me incredibly clumsy. I end up covering the entire side of the can in paint and scramble to mop up my mess with paper towels. I usually throw in a few choice words, just for the dramatics of it all.
We now have a few of the paint can spouts and they make pouring much easier. I still have to wipe up a few drips, but it's nothing like before.
Spouts cost a buck or two at home improvement stores and can be easily washed (if you are using water-based paint) and reused. I think they also come sized for quart cans, but I don't have any of those.
4. Paint as Many Sides as You Can at Once – A good paint job requires two things – time and patience. You need to take your time to make sure you get good coverage and avoid drips. You have to have patience because you have to let your coats completely dry before you can paint additional sides of the project. If you don't paint a lot, just trust me on that last one. If you push it, you will ruin your project.
Meet my friends, the painters triangles. They elevate a multi-sided project so that you can paint several sides at once. They can be purchased at a home improvement or paint store for about $5 for a pack of 10 triangles.
Here, I can paint the top and four sides of a board at the same time. Once that paint is dry (about four hours for the paint I used), I can flip the project over and paint the bottom. The triangles touch a very small portion of the surface of your project, so you don't run the risk of damaging your paint job. They also clean up easily if you do happen to get paint on them.
Using these four simple tips has really made my love/hate relationship with painting swing to the love side. Do you have any painting tips to share? I'd love to hear what you do to take the "pain" out of painting!
I'm hooked on transforming furniture with paint! Visit Hooked On Houses to share what you are hooked on this week.