A few months back, I ran across a tutorial on
CraftyNest
to turn a salvaged cabinet door into a serving tray. I immediately knew I had to attempt to create my own tray, although I knew that mine would be no where as wonderful as the one she created.
People, she drew that design freehand and then painted it with a paintbrush. I am usually totally delusional about my artistic abilities, but you and I both know there is no way I could do that.
So, I decided to do it how we non-artists would do it – spray paint!
Reclaimed Cabinet Door Serving Tray
1. I found this old cabinet door at the
ReStore
for $1. I was more concerned with the shape and size than the color of the door. I also wanted one that was solid wood. I knew I was going to use this mostly for decorative purposes, so the size of the inset wasn't that important to me. If you were going to use this to actually serve drinks and such, you'd want a larger inset (see the original inspiration picture).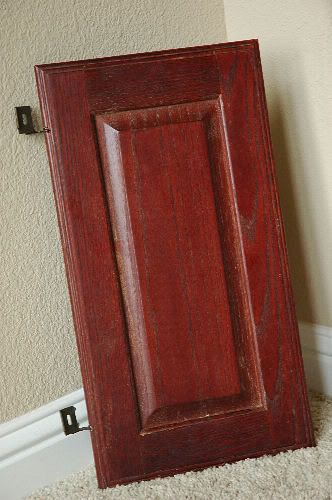 2. I removed the existing hardware with a screwdriver (and the help of a "diggie" and some Legos) and sanded the entire door
with 220-grit sandpaper. It's a fairly small door, so I just sanded it by hand.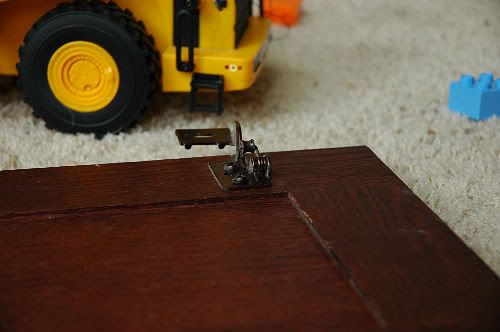 3. Then, I primed the entire door – front, back and sides. And yes, I did it right there inside my house because it was literally 108 degrees outside.
(Oh, and the photos start to get really speckled or something starting here. I'm not sure what happened, so I just apologize in advance.)
4. Next, I sprayed the entire door with Krylon's Satin Brushed Nickel paint. Don't worry, this is just the undercoat. After the paint dried, I taped off the border with painter's tape.
5. I bought a super cheap yard of lace at Walmart and laid it on top of the door. I taped the lace to the ground so it wouldn't blow around, but you don't have to do that if it's not windy where you live.
6. Then, I simply sprayed a light coat of white paint on top of the lace. I sprayed one pass from side to side and then one pass up and down. After I sprayed it, I immediately removed the lace to reveal the new design underneath.
Pretty cool technique, huh? Again, sorry about the weirdly speckled photos.
7. After the paint was dry, I applied two coats of wipe-on poly so that it would be protected. I also installed two cabinet drawer pulls on either side of the drawer to use as handles. You may also want to add the little felt pads to the underside corners of the door so that it doesn't scratch any surfaces.
For now, I'm displaying my tray in the vignette on top of a dresser in my bedroom. The dresser is getting ready for a huge re-do, and I think I'm going to like the tray on top of it.
I love this project because it was very easy and yields a pretty interesting result. There are so many creative things you could do to embellish the tray other than the lace design – add stencils, chipboard designs, or even one of the awesome vinyl designs you can find in the
back40life Etsy store
. Don't forget to enter the giveaway to win one of her designs!
I've added this post to Kimba's
DIY Day
over at A Soft Place to Land. Head on over there and check out some other great DIY ideas!