My husband is very handy. He can do something I don't even pretend to understand with computers, hang drywall, and then cook a great dinner all in one evening. He loves teaching our son and they do lots of "guy stuff" around the house. I'm a lucky gal to have him around.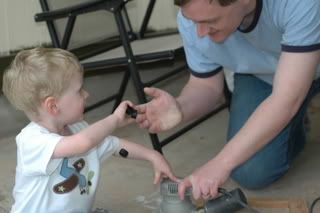 He's a lucky guy, too. I always think up lots of projects to keep him busy. The good thing is that before he's even begun one project, I have cooked up another scheme for him to help with as soon as he's finished with the first one. It's tough to be my brain sometimes.
My obsessions are vast and varied and can change at a moment's notice. Last week, I was obsessed with knowing exactly where all of my food is grown. This week, the only thing I can think about is the gorgeous, fabric-covered headboard I'm making for my bed. I'm sure it will be something else next week.
The problem with my obsessions is that they come with my compulsions. I simply can't help myself from getting started on a project as soon as I think of it. Case in point – I had to stop typing this post just now because I remembered that I wanted to take apart a light fixture I bought this weekend.
It's difficult to live here, because I have little projects scattered all over the house. A lot of them can be contained to my sewing room, but many of them take over the garage, the entry way, the dining room, the kitchen…you get the point. The piles of projects don't bother me at all, but the piles of my son's Hot Wheels all over the floor drive me crazy.
Are you starting to get a clearer picture of why it's difficult to live with me?
I hope that this little blog will serve a couple of purposes. First, I want to share my projects with you. You may be inspired by them or you may laugh at them, I don't know. At any rate, at least it'll give me you something to do besides checking Facebook every five minutes.
The other purpose of this blog is to help me keep my ideas centered. I need to learn to finish a project before I move onto the next one, so I'm hopeful that having to share them with you will help me to do that.
It's going to be a bumpy ride. I hope you can keep up!