Not long ago, I waned to spend all of my time out and about – shopping, visiting friends' homes, and attending playdates with my son. I think Zack and I spent more of our day away from home than we did actually being at home.
Much has changed in the last few months. I have started decorating our home with a purpose, instead of buying random home decor items on a whim. I feel like my home is on its way to being welcoming and beautiful instead of piecemeal, and now I have to have a really good excuse to spend all day running around town. I want to be here. I want to enjoy the warm sunlight streaming through our windows. I want to just sit and enjoy this home, this life, my family has created.
Other than the decorating, there are a few little changes I've made in my life that have helped me get to this point. I decided that it would be no fun to have a beautiful, well decorated home if it was constantly in disarray. I always felt like I had too much laundry to put away, too many toys to pick up, and too many rooms that needed to be cleaned. I have a new routine at home now, and it has definitely made a tremendous difference in my life.
I'll let you in on a few little secrets, because I like you.
First, there are some easy things I do every single morning:
Give Zack his juice (aka 8 oz of water with a splash of juice) and cheerios;
Start a pot of coffee for Tom and myself;
Put a load of laundry in the washing machine;
Empty the dishwasher than ran the night before;
Open the blinds and curtains; and
Make the beds.
It seems simple, but it gets my day started and helps me to keep on top of the "homemaking" aspect of my life. Plus, since I get up and get moving, I get a lot more accomplished in my day than I used to accomplish.
The other secret is my chart. In order to keep from getting overwhelmed with everything else there is to do in our home, I simply set up a chore chart for myself. All of my tasks are broken down in easy to manage segments, so I don't feel like I'm doing housework all day.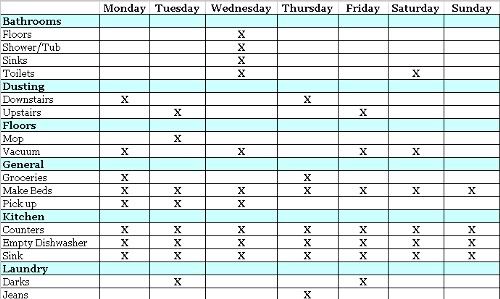 Click on the above chart to be taken to the full-size version.
Above is my little chart. Each day, I try my hardest to accomplish each task I have assigned myself. I'll admit that there are days I don't get it all completed, but I just relax and move those tasks to the next day. Everything eventually gets cleaned and I don't have to dedicate an entire day cleaning or an entire day to laundry.
It may seem crazy and a little OCD (Hello! Have you ever read my blog before?), but it keeps me calm. I am a much better mother, wife, and Lindsay when I'm calm and relaxed. Plus, there aren't a zillion mountains of laundry and piles of dust bunnies waiting to attack me as soon as I walk in the door. See why I don't mind being at home now?
I challenge you to make your own little chart (or use mine) and try this process for two weeks. Start it on Monday – that gives you all weekend to prepare. You know, do your pre-dusting stretches and the like.
Let me know if you accept my challenge. Even if you have a cleaning service (who will never clean your home as well as you do, but that's a whole different blog post), you can do the daily picking up, kitchen cleaning, and laundry tasks. I'll be checking in mid-week to see how everyone is doing. You can do it and lead a more beautiful life in the process!
Check out one of my favorite blogs, The Inspired Room, to join in the weekly celebration of living a beautiful life!