Dishware in our family has one rule and one rule only: If it can't be washed in the dishwasher, it's going to die trying.
In my opinion, we as a society are too advanced to need to wash anything by hand. We pay a lot of money to have conveniences such as dishwashers, and there is nothing that is going to escape my wrath of the heated dry cycle. We all have our hang ups, and I guess scrubbing pots and pans is mine. I wish you could have seen my new husband's face he caught me putting our Wustof knives in the dishwasher just days after our Honeymoon!
My hatred of hand washing has seriously impacted my love of drinking coffee on-the-go. I have been searching high and low for an insulated coffee tumbler that could be washed in the dishwasher -AND- used in the microwave. Every other coffee tumbler that has come into contact with me has succumbed to the water trapped between its two layers (if you've ever put a tumbler like this into the dishwasher, then you totally know what I'm talking about). I had just about given up my search.
Imagine my surprise when I was at the grocery store earlier this week and almost ran smack dab into an end cap displaying these: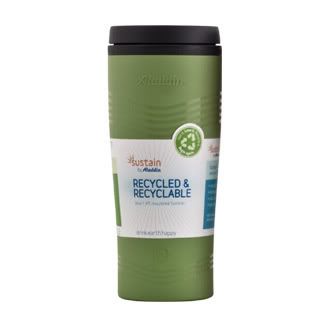 ::Aaaaaaaaaahhhhhhh::…Picture angles singing, birds chirping, unicorns, rainbows, etc.
This insulated tumbler is not only DISHWASHER and MICROWAVE SAFE, but it's also made of 100% recycled plastic and is itself fully recyclable. This is like the Holy Grail of coffee tumblers, people.
I quickly bought two – a green one and a blue one – with the thought that if I liked them I'd buy more. Well, I don't just like them, I LOVE them. They keep your coffee warm for quite a long time, wash wonderfully in the dishwasher (woo hoo!), and don't leak. Additionally, I had never considered this since I drive a small SUV, but they fit perfectly in DH's cup holders in his little car.
The BPA-Free Recycled 16 oz Tumblers are available at the manufacturer's website (Aladdin-PMI) for $9.99 and come in blue, green and pink. They are also available in stores – such as my grocery store – so you may want to check around if you need one right this very second, like I did. There is also a version available with a handle if you prefer that type of tumbler. Just FYI, the label in the picture above is just the cardboard sleeve packaging, so the tumblers themselves are not obnoxiously branded.
I figured there were at least a few of you who share my need for a dishwasher and microwave safe coffee tumbler, so I wanted to let you know that this one Works For Me! It's pretty much the greatest thing ever.