Remember this wreath? The one that I loved so much that I tried to recreate and then lots of you recreated my recreation and emailed me your gorgeous projects and all was happy in the world?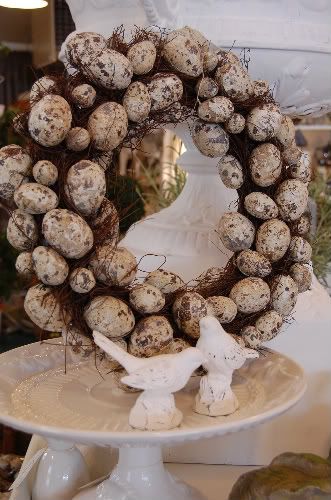 Yeah, well, I'm still not over it. In fact, I think about it every time I see my the wreath on my own front door. I think about it every time the Urban Farmhouse blog is updated. I think about it every time I see a new Kimba post (because she is completely responsible for this entire obsession). I've mentioned before that I have just a wee touch of an obsessive personality, right?
I decided that I really needed to try again to make a wreath closer to the original beauty. In order to do so, I needed quail eggs. The original wreath is made with faux quail eggs which is why they are so large, but I wanted some real quail eggs for a nest I have in my home and decided to buy extras for the wreath.
The only place in town I could find quail eggs was at the big Asian market. They were $7.99 for 24 eggs so I bought them and went on my marry way. I was trying to be a big girl about the whole situation – particularly given my whole aversion to foods I randomly deem "weird" – but when I went to blow the eggs and bits of tiny feathers came out of the hole, I promptly threw all 24 eggs in the garbage can and double bagged the garbage.
And then I ordered some blown quail eggs off of Ebay. Yes, I'm totally that much of a weenie.
Once my eggs arrived in perfect condition (I highly recommend that seller if you are in the market and share my weenie-ness), I set out to make *the* wreath. It was super easy to make with $2 worth of supplies from the Dollar Tree, the eggs, and a few sticks I found in my front yard. And, it turned out beautifully.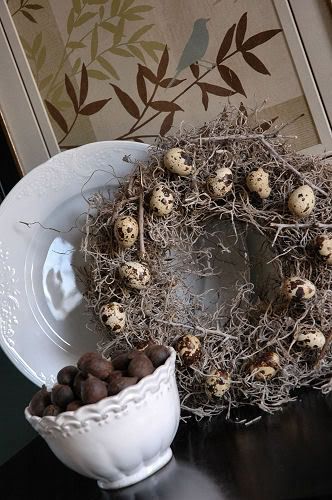 Steps to Create Lindsay's Second Version of the Most Wonderful Wreath Ever:
1. Gather your supplies. You'll need a bag of Spanish Moss, a small grapevine wreath (mine is 10 inches), quail eggs (I used 15 on my wreath), twigs, spray adhesive, and your glue gun.
2. Spray the adhesive on a 3 inch section of the wreath, font and back. Wrap a generous amount of moss around that section of the wreath. You may find you want to spray it again and add more moss to that section or you can just move on to the next section. You'll just have to see how it looks and if it's as fluffy as you want.
3. Continue the adhesive/moss wrapping until you have your wreath fully wrapped. Go back and fill in any spaces where you can see the grapevine through the moss.
4. Heat up your glue gun and glue your eggs randomly onto the wreath. I always lay mine out and do a "dry fit" before I attach them.
5. If you'd like to add some small twigs, you can hot glue them into place just as you did the eggs.
6. That's it! Seriously, it's only five steps.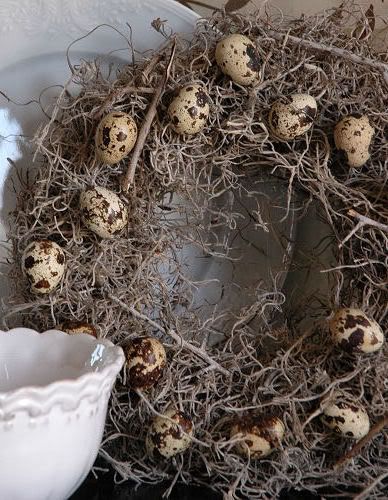 Can you believe how easy that was to put together? It honestly took me a total of 15 minutes to complete and it's probably my favorite thing that I've created. In fact, I'm just going to go ahead and say that I like it even more than my inspiration wreath. GASP! That, my friends, is a crafting success!
I put the wreath on top of a wooden pedestal stand I found on clearance at Sears, and we now use it as the centerpiece on our Breakfast Room table.
I'd like to put something in the center of the wreath (a glass cloche perhaps?) to add some more height. Any suggestions? Let me know!
I encourage you to try to make one of these great wreaths, too! I think it's going to fit perfectly in my home all year long. Wouldn't it look great in yours, too? I'll totally give you major props if you have the guts to blow your own quail eggs, too.
Clearly, I'm completely hooked on quail eggs. What are you Hooked On this week?