I am, without a doubt, the palest person in my family. Total strangers have described my complexion as peaches and cream. I'm not sure what that means, other than it makes me want to eat oatmeal.
My father is the darkest person I know. We used to joke that he tans with the Equinox; the seasons would change and he'd actually get darker. This is a picture of him the first time he held Zack. I still get teary eyed looking at this picture.
Yeah, and that was also taken in FEBRUARY. You wouldn't believe how dark he is in August.
My sister is equally as dark (as well as beautiful, thin, charming, smart, blech). Here is a photo that I totally stole from her Facebook page of she and her super cute friends before a University of Florida football game. Leigh is the tiny one in the orange hat and perfect teeth.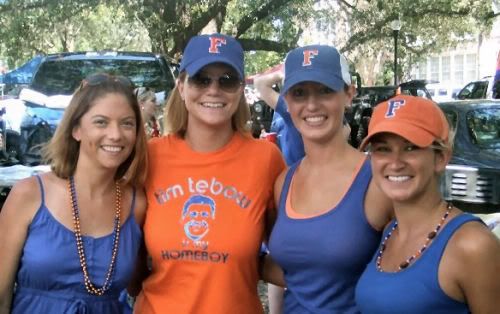 My mom's skin color is lighter than my Dad's and sister's, but she tans very easily. However, I burn like crisp piece of toast. It's ugly and it hurts.
Right now, I'm visiting my parents at their beach house in Destin, Florida (lucky me!). Being as that my dad loves nothing more than to make fun of how pale I am, I knew I had to do something before the trip to try to stop his jokes. I didn't want to go to a tanning bed and have had bad experiences with the self tanners. When I saw the Jergens Natural Glow lotion at the store last week, I figured I could give it a shot.
Have you tried this stuff? I know, it's been out for a while, but I'm kinda lame and behind the times as far as trying new beauty products This one is really great! You use it every day after your shower like you would any other body lotion. It gradually turns your skin a darker shade.
It took about 3 days for me to see a difference in my skin tone, but I'm so excited that it really works. And because the change is so gradual, you don't get the icky orange streaks that we've all gotten before with self tanners. I can really tell it's working because I'm putting it on my never-before-seen-the-sun rear end and it's actually changing colors! I know you totally want to see before and after pictures of that, right?
The lotion comes in different shades, so pick the one closest to your skin tone. I chose Fair, of course. I've only been using it for about 2 weeks, but I can't believe what a great job it does. It's going to be a wonderful way to cover up my weird triathlon training tan lines when I wear a strapless dress in my sister's wedding this June. Love it!
On a side note – can you imagine how freaking dark my sister is going to look in a white wedding gown. I can imagine it because I've seen it and Holy Cow!
Of course, it didn't stop my Dad's jokes at all (in fact he laughed MORE when I talked about being darker), but I love feeling like I actually have a "tan."
I'm totally hooked on this stuff. What are you hooked on this week? Check out Hooked On Houses and let everyone know!