Do you ever find yourself out and about and run across an item that you think might be perfect in your home? Then, you hem and you haw and question it's dimensions, it's shapes, it's color. You decide that you can either buy the item and go through the process of returning it (if the store allows returns) if it doesn't work or you can run home, check the measurements, and hope the item is still there when you return to the store.What do you do?
I'm of the school of buy it now, worry about it later. And, uh, yeah. I also have a lot of random stuff shoved in my craft closet.
A few months ago, I came up with the most brilliant idea in the history of the world to solve this problem. Meet my Swatch Organizer.
My Swatch Organizer is a roughly 4×6 inch plastic envelope that only costs a few dollars from most stores. I used to carry my swatches in a Ziploc baggie, but it just wasn't organized enough for me and got all wadded up at the bottom of my purse. It drove me insane. Yeah, I'm totally that person. The envelope has dividers inside that allow me to sort all sorts of home dec goodies and ideas by room. I think it was originally sold as a photograph organizer. It stays closed due to the wonders of Velcro.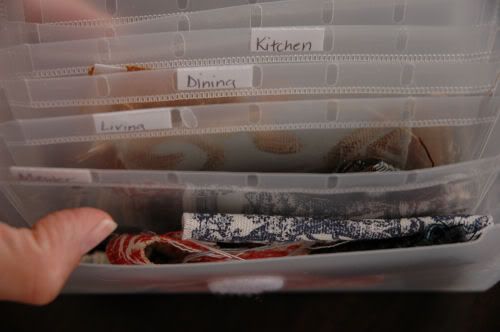 Within each divider, I keep fabric swatches, paint chips, and trim samples for each room in my home. I also include a slip of paper with the measurements of a specific location if I am looking for something for that room. For example, if I needed a table for my entry way, I'd have a slip of paper with the dimensions of the area I want that piece to fit. I also have a list of needs for each room, such as frames, pillows, etc.This is what can currently be found in my "Master Bedroom" section.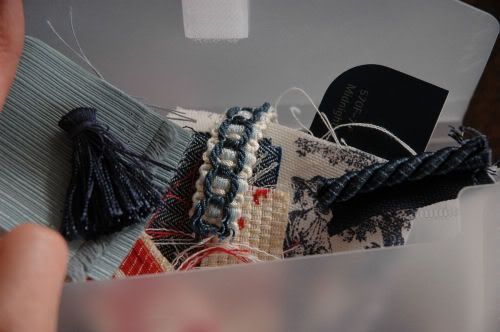 It slips into my purse, so I carry it with me everywhere I go. I have a fairly large purse, but the Swatch Organizer could also fit neatly into your glove compartment or in a diaper bag.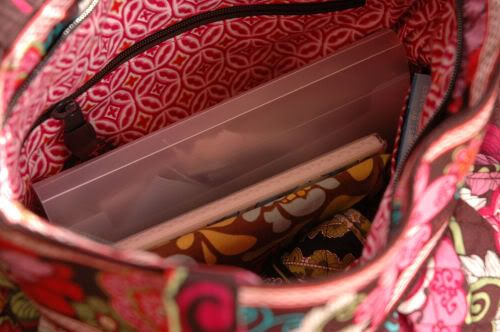 My Swatch Organizer has been invaluable to me as I go through the process of decorating my home. If I see a plate I want for the wall above my bed, I can pull out my swatches to see if the plate blends with my color scheme. If I see a lamp at Goodwill that I think would be a perfect repurposing project, I can look in the dividers and see which room needs a new lamp. Or if I see a great piece of art for my wall, I can check the measurements to see if it would fit in the little space I imagine it hanging.I'm heading out of town tomorrow for a week and a half vacation with my son and my parents. I'm excited to have new thrift stores to check out and new fabric stores to visit. You better believe that I have double and triple-checked to make sure my Swatch Organizer is safely in my purse!
I hope the Swatch Organizer idea works for you as well as it works for me! Thanks to Kristen at
We Are THAT Family
for hosting Works for Me Wednesdays on her great blog.