Spring is on its way (or already here for some of us!), and I feel like my home needs a little overhaul. Sure, I need to put away our winter coats and start my Spring cleaning, but what I'm really excited about is adding a little Spring into my decor.
If you're anything like me, you find a thrill in a challenge. Or maybe I'm just over competitive. Regardless, I love trying to decorate my home as beautifully and as cheaply as possible. In these tough economic times, it seems that thriftiness is more important than ever.
There's nothing quite like the flutter in my heart when I find or create something wonderful for very little or no money. It can definitely be a challenge, but thrifty home decor can be done and can be done beautifully.
What do you think? Do you like that thrill? Are you ready to meet the challenge? Do you want to win a great prize? Yeah, I know you do.
I'd like to introduce you to The Five Dollar Challenge.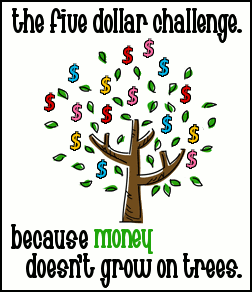 I challenge you to create something beautiful and Spring-y for your home by
only spending five dollars
. Do you think you can do it?
The Rules:
1. You may only spend $5 out-of-pocket (not including sales tax) on this challenge.
2. Your $5 may only be spent at a "dollar store," such as The Dollar Tree, Everything's $1.00, Family Dollar, Dollar General, or similar stores you may have in your town. Yeah, I'm trying to make you think outside of the box. Get creative!
3. You may also use items you already have around the house, such as tools and supplies.
4. On Monday, March 30th, post "before" and "after" pics on your blog and tell us all about your new treasures. If you don't have a blog and would like to participate, I'd love for you to email photos to me and a little blurb about your project, and I'll come up with someway for everyone to see them. My email is LivingWithLindsay [at] gmail.com.
5. Check back here and post a link to your entry. I'll provide further instructions later if you haven't ever used Mr. Linky. It's really easy.
6. Be sure to visit the other participants' links and remember to leave comments! The more links you visit, the more great ideas you'll discover.
7. One participant will be chosen at random to win the Grand Prize.
Did you see that last part? A GRAND PRIZE? Woo hoo! I'm going to reveal the prize piece by piece as we get closer to the big challenge date…'cause I like to draw things out like that. I promise you're gonna love it, though.
So, are you up for the challenge? Leave a comment below to let the world know! Also, I'd love for you to grab the button and add it to your blog so your readers can know how to participate, too.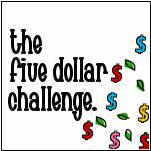 If you have trouble posting the button on your blog, please let me know! Sometimes Blogger is a little wonky with the code.
Or maybe I'm the wonky one. 🙂
Need a little inspiration? Check out Dollar Store Crafts for lots of fun projects! There's even a Home Dec section listed there.
I can't wait to see what you come up with!
P.S. I'm so excited that Heater at Dollar Store Crafts has added a link this challenge to her site. Welcome to everyone visiting for the first time!
P.P.S. I'm totally hooked on this challenge! I've had so many ideas running through my head, and I just don't know where to start. Check out Hooked On Houses to see what others are hooked on this week. 🙂