About this time last year, the economy was in the tank, and we were all looking for ways to add some Spring decor to our homes without breaking the bank. I wanted to prove that we could stretch $5 more than we thought. I challenged my readers to create new Spring decor for their homes using only $5 worth of products from the Dollar Store – the Five Dollar Challenge.
This year, things aren't much different, are they? Sure, the economy has rebounded a bit, but we are all still more conscious of each dollar we spend than we were several years ago. Well, are you up for the challenge (again)?
I'm excited to announce the 2nd Annual Five Dollar Challenge! I was blown away at the creativity you guys displayed last year. My Mr. Linky from 2009 has expired (boo hiss!), but there were over 150 entries in last years challenge. And have I mentioned there are prizes?
This year the rules are largely the same:

– Create a new Spring decor item for your home using only $5 worth of items purchased at a dollar store – i.e. Dollar Tree, Dollar Store, Everything's $1.00, etc. The $5 does not include sales tax.
– You may use the following supplies *if* you already have them on-hand – paint, glue, paper, fabric, tools.
– On or before March 25th, post a tutorial for your new craft on your blog. If you don't have a blog, please email me photos and a written tutorial to lindsay@makelyhome.com and I will find a way to display it for you.
– On March 25th, come back to my blog and link up your tutorial to the Five Dollar Challenge post that will go up that morning. Any entries that do not follow the rules will be disqualified (and I'll feel like a big, honkin' jerk).
– A panel of esteemed judges (JJ from the Blah Blah Blahger, Emily from Remodeling this Life and Gina from The Shabby Chic Cottage) will select five entries to put forth to the Living With Lindsay readership for voting.
– YOU guys will vote for your favorite of the entries. One winner and one runner-up will be selected to win the prizes (which are gonna rock, I must add).Got it?
If you have any questions, please post them below, and I'll answer within the comments so everyone has the same information.
If you are up to the challenge, please announce it to your readers! Help me spread the word by posting the below button in your sidebar: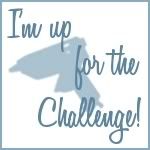 Woo hoo! I can't wait!