Much to my postman's chagrin, I receive oodles and oodles of home decorating magazines. Once I discovered Amazon's $5 magazine subscription deals, I was a wild woman ordering this magazine and that magazine. Now, they just pile up, because I don't have the time make the time to look through them all.
When I do find myself in a bubble bath with a few moments to myself, I love checking out the beautiful rooms put together by real-life designers. More often than not, I dog-ear pages in the magazines thinking, "Oooh, that would look great in my bedroom," or, "I could do that for so much cheaper!" Occasionally, though, I find myself thinking, "What real person lives in that space?"
Before you get depressed that your house isn't as beautiful as the ones in House Beautiful, I want you to remember one thing: REAL PEOPLE DON'T LIVE THERE. Sure, there's a family or a couple living in each space photographed, but THAT'S not how they actually live.
One read of Eddie Ross's blog or even a visit to the Lettered Cottage reveals exactly what you need to know – when the magazine pros photograph a home for a spread, they enter a spectacularly fabulous home with an army of stylists and props to make a space look more magazine-like. Throw blankets are strategically placed so that they photograph well and add a splash of color to a bare spot. A beautiful place setting is styled on the dining room table in case an impromptu dinner party errupts. And what is with there ALWAYS being fresh cut flowers just laying on the kitchen island? I'm I the only one who notices that?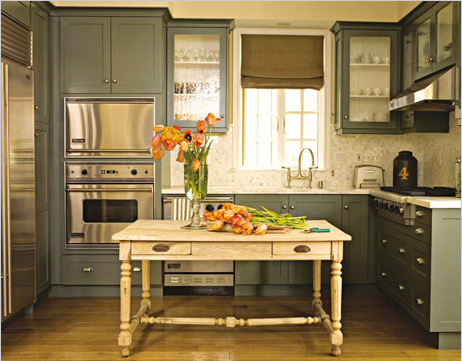 Don't you just LOVE the color of those kitchen cabinets, though?
Do you want to know what a real home looks like? I'll show you. It has pliers and space shuttles in the oven.
It has a giant mess tucked away in one room where you can simply close the door (don't we all have a messy room like this?).
It has a pile of throw pillows on one side of the room (and lots of Legos on the coffee table), because let's be honest – it's not really comfortable to sit on a couch with throw pillows.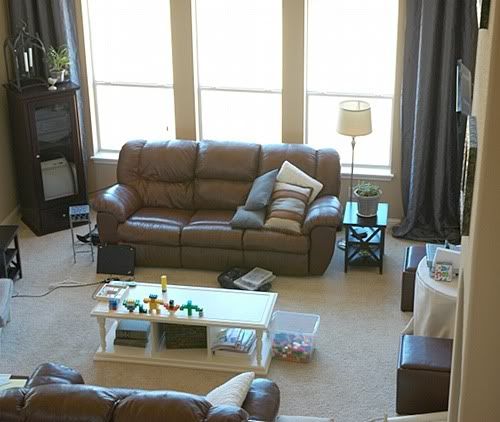 I just want to tell you right now that your home is perfect the way it is. Absolutely perfect. There's always room to refresh your space – to add a new chair here or a book wreath on your wall there – but your home is perfect. Don't ever, EVER let magazine spreads make you feel your home is unworthy.
Remember, it's all just a mirage.
Beautiful photos by House Beautiful. Real-people photos by me.