When Marie from Emma Calls Me Mama invited me to participate in her Heirloom Party, my first thought was, "Heck, yeah! What a fun idea for a little blog party!" I was very excited to participate.
But then, I realized there was a huge problem. Um, I don't have any family heirlooms. Oops! That's gonna be a little awkward, huh?
I'm lucky enough that I have only lost one grandparent. My father's father and both of my mother's parents are still with us. They all have many items special to our family, but I have a hard time thinking that I would love to have this or that when they are gone…because it would mean they are gone.
I was sadly getting ready to email Marie and tell her "no can do," when I suddenly remembered that we did have something very special. When my husband and I got married, his grandmother gave us her monogrammed sterling silver place settings.
My husband, Tom, lost both of his grandfathers at an early age. He actually never even knew his father's father, whose surname we now share, as he died before Tom was born. Tom was going to be the last male heir with his surname, so you better believe that when we found out we were having a son a few years later, Tom's side of the family rejoiced. One more male to carry on the family name!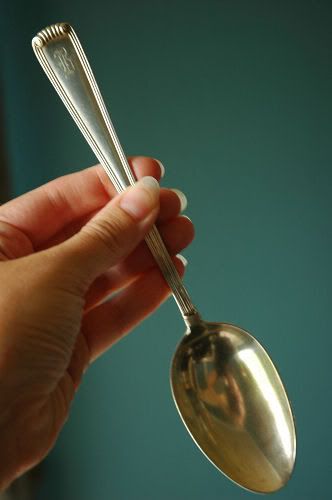 Tom's paternal grandmother passed the family sterling silver down to us. As a traditional gal who loves monograms, I was overjoyed. We have knives, two types of forks, spoons, and a few serving pieces. It's a little worn and doesn't polish to a brand new shine, but I love to think of the meals shared over these pieces. I also love the little scroll work on the tips.
I understand that there are more pieces in the collection that his grandmother will pass down to us at a later time, but I'm in no hurry to have those pieces. My mother-in-law jokes that she's taking the monogrammed pickle forks, but I keep telling her I'll fight her for them. Quite honestly, I'm not even sure that there really *are* pickle forks, but it's fun to pretend nonetheless.
I really appreciate Marie hosting this party, as I would have forgotten about the silver altogether. We only use our china and sterling on very special occasions, a truth that I'd love to change except that it would mean having to hand wash my dishes, and we know I don't do that…ever. Maybe I can start making a once a week exception. Eeeh, I'm kind of lazy though.
Do you have any heirloom pieces that hold a special place in your family's heart? Do tell!