Does your bathtub ever look like this?
Every evening after my son's bath, I find that my bathtub is a menagerie of bath toys and shampoo bottles. We give him a bath in our master bath instead of upstairs in "his" bathroom, because our tub is much larger. I love that he has a great time in the bath, making up new games and squealing with delight when he gets splashed, but the bath aftermath is driving me crazy. I hate walking into my calm bathroom and seeing that mess.
I have searched high and low for some sort of bath toy storage container that blends with my bathroom decor, but all I could find where giant plastic frogs and brightly colored mesh bags. I know you know where I am going with this, right? I decided that I had to create my own bath toy storage!
I went through several different mental prototypes of the container I wanted to create, but I ultimately decided that I only needed two items to make this work – a lightweight planter and a plant stand.
Lightweight planters are easy to find. I chose a pot made from some sort of high density foam, so that it could withstand the bath splashes yet still be lightweight. This one came from Garden Ridge, but I have seen them at Lowe's, Home Depot, and even Walmart.
I primed with planter and the plant stand with white spray primer and then sprayed them both with white paint. I used plastic spray paint on the planter and regular spray paint on the plant stand.
I'm not certain that I needed to use the plastic paint on the planter, but I was worried that regular paint would melt the foam. The first coat didn't lay down as nicely as I thought it should, but it ended up being okay in the end. If you chose to do this project yourself, you may want to test both types of paint on the inside of your planter and go with what looks best.
After the paint dried, I used 100 grit sandpaper to antique the raised design on the planter. I just lightly sanded over those parts and was very happy with the result.
I repeated the process on the plant stand to make it look as "worn" as the pot.
Next, I used a drill to put some holes in the bottom of the pot for drainage.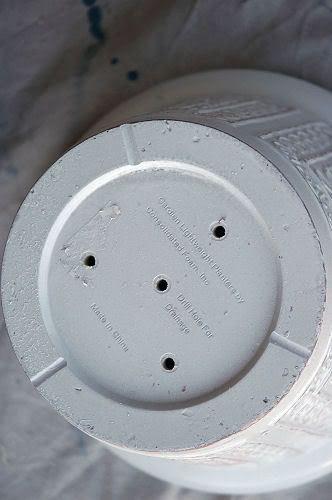 When I was ready to attach the pot to the plant stand, my husband introduced me to some epoxy called J-B Kwik. It's an epoxy that is made with steel and bonds very, very quickly. You have exactly four minutes before it's set (I totally have that Justin Timberlake & Madonna song going through my head now).
Honestly, I think the J-B Kiwk was overkill and regular ole' epoxy would have been fine, but Tom is obsessed with this stuff and was just dying for the opportunity to show me how to use it. We mixed it on a paper plate and used wooden coffee stirrers (that he's apparently been taking from our favorite bagel shop every time he goes there!) to apply it directly to the planter. I then pressed the plant stand into the epoxy.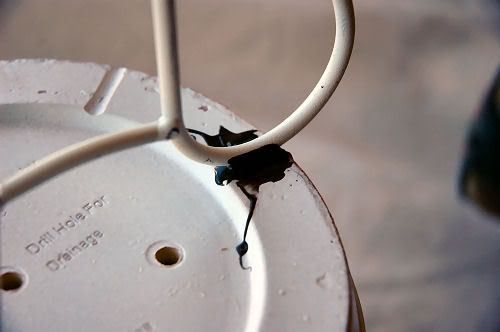 After the epoxy dried, I gave the bottom of the planter two coats of white spray paint since the J-B Kwik dries black.
After that last coat of paint dried, I flipped it over and admired my work. My new bath toy storage was then ready for it's new home on my bathtub.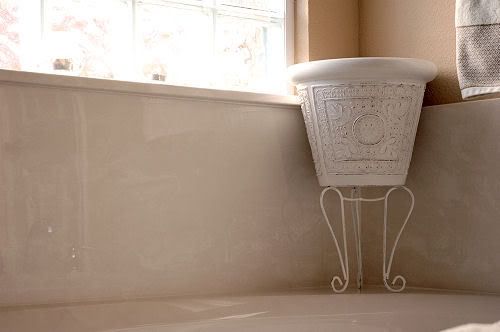 Don't you love it? The best part is that the toys are actually inside of it right now, but you can't even tell unless you get right on top of it. LOVE it!
Hey, Goofy! What up, dog?
Even if you don't have children, I'm sure you could find plenty more to go inside of a water-resistant storage container like this one. Bath salts? Sponge? Razor and shaving cream? Don't leave all that stuff lying around on the lip of your tub when you have something this custom and beautiful to hold them!
Make your container as large or small as you would like. The sky's the limit when you are designing your decor!