Those of you who have been reading for a while know that I clean every day. EVERY day. Sometimes it feels like a bit of a chore (pun totally intended), but I like that I am able to break my cleaning tasks into bits and pieces so that I don't have to spend one entire day cleaning the house.
What I don't like is when I grab what I think is bathroom cleaner and find myself spraying carpet cleaner in my sink.
At my house, we store our cleaning products in a cabinet in the laundry room. Even when we kept them under the kitchen sink in our old house, there was never enough space to have the labels of all the bottles facing forward. All of the cleaning product bottles are wider than they are deep, so I end up having rows and rows of products. I couldn't see what is hiding in the dark spaces behind the first row, and I was always grabbing the wrong product since they are all packaged in similar white bottles.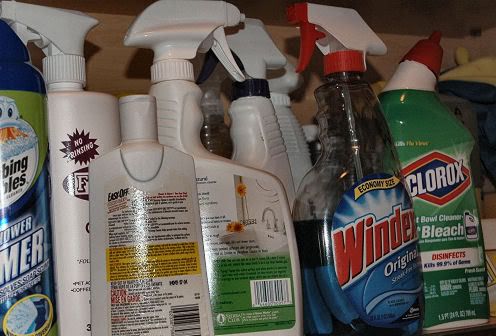 That also explains why I currently have three bottles of Clean Shower, which I really don't even use.
One evening, in a stroke of brilliance, I grabbed a Sharpie and changed my life.
I wrote the name of the product on the spine of each bottle so that I could fit more bottles across a row.
Now, I can see what each bottle contains, and I only have two rows of bottles instead of four! No bottle gets to have the luxury of hiding from me and my trigger finger.
This may be an "uh, duh" moment for you, but it sure was an "a ha" moment for me. I hope this tip works for you as well as it works for me!