"Christmas is the time of year when you say to me, 'How much do you love me? Now get up on that ladder and prove it'," my husband said to me this weekend.
"Oh, that's not true!" I replied. "But, you better get to climbing because we are losing daylight."
Yes, I've become that person. Sue me.
Before we lived in our current home, I was happy with some simple white lights strung across the bushes in front of our house and a few trees in our front yard. I was a complete white light SNOB.
(This is where I'd show you those photos, but since I can't find any, you'll just have to imagine it. It was pretty, but simple.)
But then, I discovered this other house in our then neighborhood – the 'Most Awesomest Christmas House in the World' house. It was G.O.R.G.E.O.U.S, and it was my intention to copy it as soon as we moved. At that time we weren't even planning on moving, but I filed it away in my brain.
Fast forward a few years. Our new house was being build during the after-Christmas sales of 2007. I measured all of our windows (while there was little but windows and drywall) in the new house and rushed out to buy all of the necessary supplies. Tom knew that my plan would require him to climb all the way up to the second story windows of the house, but I'm pretty sure he didn't think I would actually go through with it. I think his jaw just about hit the floor when the huge box of red, green, and white Christmas lights arrived at our door from Christmas Lights, Etc.
Oh, Buddy. It was ON!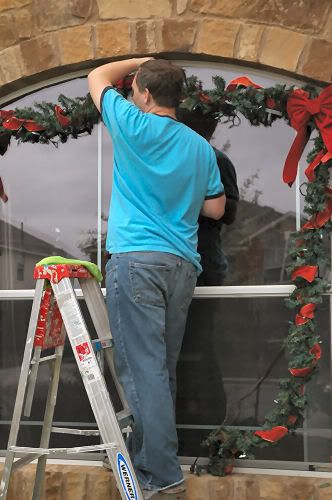 It's definitely a battle to get our decorations up each year. We just hang them up with some more of those 3M Command Adhesive hooks (they should pay me this time of year for all the plugging I'm dong for them!), some elaborate blue painter's tape contraption, and a big long stick that Tom uses to just beat the garlands into place when he's doing the high windows. I wish I had pictures of the process, but since I'm in charge of holding the ladder while Tom wacks at the windows, he didn't want me to use the camera.
Silly, Tom! Doesn't he know I have a very important blog? 🙂
Some of the garlands fell down the day after we put them up. I thought it was funny, but I found Tom sitting in the garage, rocking back and forth. I think he was trying not to cry. I'm sure our neighbors thought it was funny to see us out there on Day 2 with the big stick.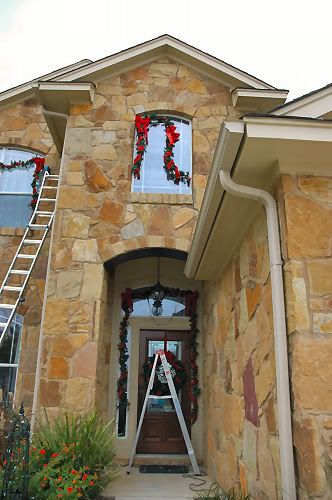 That's okay. We'll have the last laugh, because our house is the most beautiful in the neighborhood this time of year. Or, at least we think so. Beauty is in the eye of the beholder, right?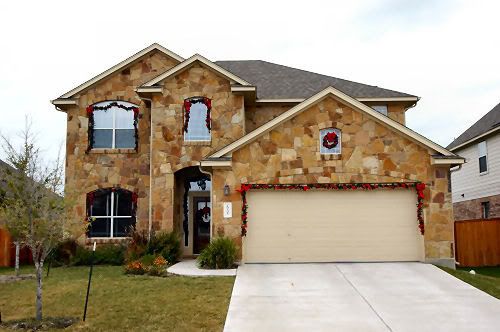 Daytime
Evening
It's even pretty from the inside looking out.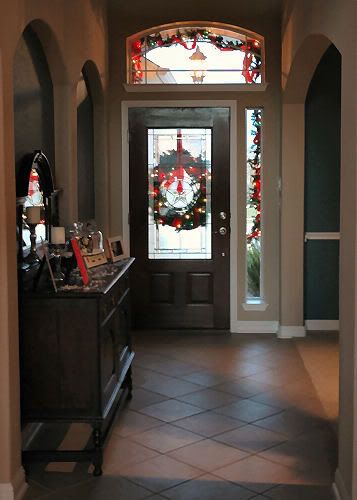 Do you have exterior holiday decorations? What do they look like? How do you hang them? Or do you just beat them in place with a long stick?
********************
I wanted to pass along a contest that I was just was emailed about. Balsam Hill is giving away a faux Colorado Mountain Spruce tree valued at $799. I'm always wary of these types of emails, but I checked it out and it's for real (and it's a beautiful pre-lit tree!). It's definitely worth an entry, don't ya think?
Plus, if you one of you win, I'll win $500 for sending you their way. Gah! Oh, just think of the garlands I could buy!
Just kidding, Tom. 🙂