About six months ago, I needed to create a few big wired bows for my sister's wedding. I was terrified, and my stomach was tied in knots about it…so to speak. I may be crafty, but I had never been a good bow maker.
Luckily, my friend Zoe is a great bow maker. I enlisted her help in my bow-making scheme, and she showed me an incredibly easy way to put together a big, loopy bow. Our little projects turned out great.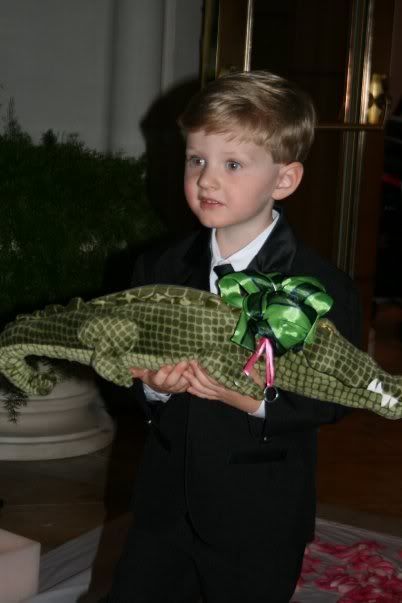 Why, yes. He may be the cutest ring bearer (with a Gator for two obsessed UF grads) that you have ever seen.
Anyway, bows like that are pretty expensive to buy in the stores, and they never have a nice, custom look about them. But you know what? They are extremely easy to make! All you need is some wired ribbon, a 6-inch length of craft wire, and a pair of scissors.
I sat down in my really messy craft room to put together a video tutorial for those of you who would like to learn how I tie bows, like the one that's on my living room wreath. This technique is really one of those things that is just much easier to learn through seeing a short video versus looking at pictures and text.
Was that easy or what? Gosh, I love nothing more than making something so simple and getting such great results.
I'm considering making bows for the gifts under our Christmas tree this year, but then I remember that they will just get torn off and tossed aside the mad rush to open gifts. What would you attach these bows to?