I've been hopping around the Internet the last few days checking out some coffee table tablescapes. Wow, that's a mouth full. Coffee table tablescapes. Coffee table tablescapes. Coffee table tablescapes. I bet you can't say that three times fast.
We haven't had a coffee table in our home in almost four years. The one we had before my son was born was glass and it had to go since it would KILL MY SON AS SOON AS HE WAS BORN! AHHHH! I was totally that mother, but I've calmed down a bit.
Anyway, I hadn't even thought about accessorizing a coffee table in so many years that I needed some guidance. I thought it would be fun (well, fun for me at least) to go through some designer photos and note the common themes and accessories throughout. My buddy, Kimba at a Soft Place to Land, read my mind yesterday and put together a post on how to decorate your coffee table, so I must not be the only one out there who needed help.
Oh, and yes. This means that THE coffee table, the Britney Spears-meets-Kid Rock coffee table (no joke) that I keep talking about has been transformed, and I am enjoying it's deliciousness right now. You'll get to see it next week. I know you've been losing sleep over it.
So, let's take a look at some of my favorite photos that didn't look styled to death (i.e. totally fake and no one could ever live like that):
I like the simplicity of this one. It has a natural elements – florals and a wooden candle holder boat thingymajig. There's also a bowl of unidentified stuff. It's also not too cluttered, so there's be plenty of room for airplane landing strips, and race car tracks (which is how I'm sure my table will end up being used).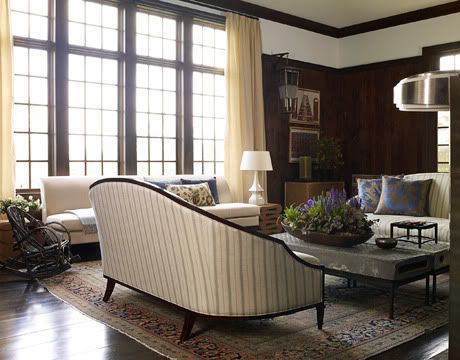 I'm also drawn to this one for it's natural elements. Is that arrangement of succulents and florals beautiful or what? It's low enough that you'd be able to see someone sitting on the other side of it, which is important. And see? Another bowl and a tray. And not a lot of junk.
Another nice tablescape here and another combination of flowers, books, and a tray of stuff. Hmmm…I'm starting to notice a theme.
Notice that this table is much larger than the other ones we've looked at, but here's another tray full of stuff, a few books and a nice low-profile floral arrangement.
I'm starting to feel like a broken record as I point out yet again more flowers, a stack of books, and a plate.
It's always interesting to me how rooms that are styled in such different ways still have common elements throughout. Note to self: Pull together some books, a floral arrangement or some other sort of natural element, and a tray/plate/bowl of "stuff" for Miss Britney.
What's on your coffee table? Do you subscribe to the flowers-bowl-tray-books design method? Or is your coffee table just a place to collect the day's newspaper/craft project/homework? Do tell!
All photos: House Beautiful