I promised that I'd show you some of my Fall decorating when it started feeling more Fall-like around here. Well, that day has finally come! It's raining (and raining and raining) and quite chilly. I'm wearing fleece pants and a long sleeved t-shirt and loving every minute of snuggling with my son under a down blanket.
Okay, so it's 57 degrees, but that's COLD for us!
I don't go overboard with seasonal decorating since we don't exactly have four seasons in Central Texas, but I do add some simple touches here and there. The centerpiece on my dining room table is usually the first place I start.
I try to decorate for Fall and Halloween all in one big pumpkin fest. By keeping my seasonal items more neutral in color instead of bright oranges and red, I think I've been able to achieve the right balance. We don't exactly get the bright fall colors in my neck of the woods, so those types of decorations in my home never seem very realistic to me.
Plus, with neutral decor I won't have to change anything on November 1st, except to take down the light-up ghosts Zack wanted to put in our front yard. I can be kind of lazy, so that totally works for me.
My sweet son brought back the pine cones and sticks for me from his trip to the lake house in Minnesota. While he was there, I completely transformed his room. A mural for some pine cones. An even trade, don't you think? Sadly enough, I totally thought so.
I picked up the acorns at a rest stop in Alabama when I was visiting my parents earlier this year. Don't judge me, okay? Our acorns around here are tiny compared to these! And they say everything is bigger in Texas…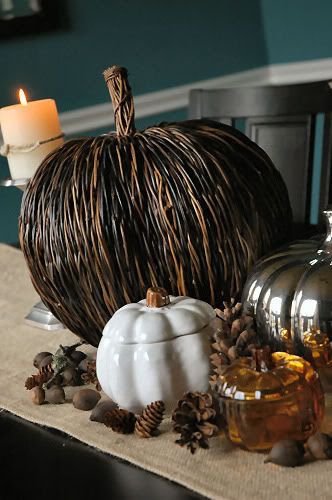 I always have white candles on the silver pillar holders we received as a wedding gift. I tied some jute twine around the candles to dress them up a bit. I'm one of those people who only likes white candles, so that's all you'll find in my house. Isn't that weird? White candles only?
The pumpkins and other assorted goodies sit on top of a burlap table runner I threw together one day. I'm going to teach you how to make both the sew and no-sew versions next week. It's seriously easy, works with most decor, and can be used year around. Oh, and it only cost me about $7.
Do you take a neutral approach to decorating for the Autumn season or do you mix it up with Halloween-themed AND Fall decorations?