Do you want to learn to create this wreath?  Find the tutorial here! 
In Austin, the official start to Fall is the moment our beloved Texas Longhorns take the football field. After 69 days of 100+ degrees this summer ( a new record! Go Austin!), I'm certainly ready for some cooler temps.
In order to usher in the new season, even when it is still in the upper 90s, I've decided to take on my Fall decorating baby step by baby step. I'm not too big into decorating for holidays (other than Christmas) and the seasons, but I've decided to at least try to give the vibe that it isn't so hot here all the time. I haven't done any Fall decorating on the inside, but that will be coming soon.
Inspired by the Nester's new wreath, I created a Fall wreath for our front door by just sticking the wired elements into a grapevine wreath and using no hot glue at all. I know – it was hard to ignore my precious glue gun, but I like the idea of being able to easily change out the pieces when I want to freshen my wreath.
I bought the wreaths (I wired a 14 inch wreath and an 18 inch wreath together), the floral/greenery stems, and large 'B' at Hobby Lobby. Everything was 1/2 off and I'll be able to reuse it all again.
The 'B' isn't actually wood, but instead, it's heavy pressed cardboard. For $1.99, I didn't care that it wasn't wood since our front door is shielded from the elements by our covered porch. I used a little craft paint to paint it a creamy white and I was good to go.
Oh, and 'B' is the first initial of my last name. I'm always surprised when people ask me why I have 'B' stuff since my name is Lindsay. I think the rest of my family would feel left out if I just put an 'L' on everything.
If you follow me on Twitter, you may have heard me say that I was running by Home Depot to pick up some of their $1.25 mums (I believe the sale runs through today, so get over there!). I added them to the planter at our front door.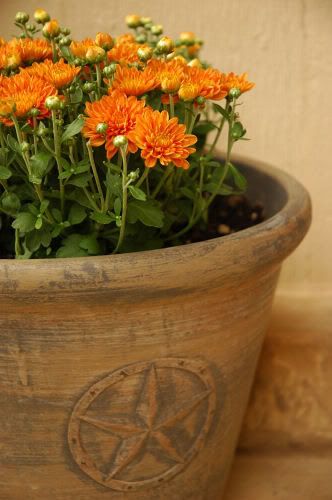 Now, our front door now looks like it's time to usher in the cooler Fall weather, even if we are still wearing shorts.
I'm adding this post to Melissa's
Fall Nesting Party
over at the Inspired Room. Visit her to join in the fun!
Do you want to learn to create this wreath?  Find the tutorial here!