Have you ever had a picture frame with a broken corner? Has the leg of one of your chairs ever gotten gouged during a move (or through the course of your daily life)? Have you ever started to work on the ugliest free coffee table in existence and found a 6-inch section of moulding was missing?
If you answered 'yes' to any of these questions, I'd like to introduce to you to my new friend – wood epoxy putty.
Found at home improvement stores, it comes in a tube and can be kneaded and molded just like modeling clay. You can use it to repair wood imperfections and it can be sanded, painted, stained, and drilled in an hour. In other words, it's simply magic.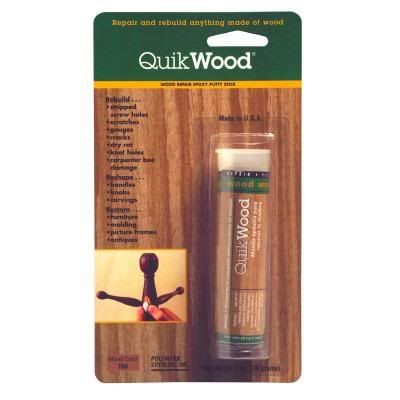 QuikWood
I'm sure there are several different brands, but the brand I use is QuikWood. I found it in the paint section of Home Depot and it cost about $3 a tube.
Following the directions, it only took me about 10 minutes to repair my table. On a plastic cutting board, I cut a piece of putty about an inch long, kneaded it together like Play-Doh, and then just stuck it on my table where the bit of moulding was missing. I made sure to build it up enough so that it was slightly higher than the existing moulding.
Once dry, all I had to do was sand it to get it level and even with the rest of the moulding.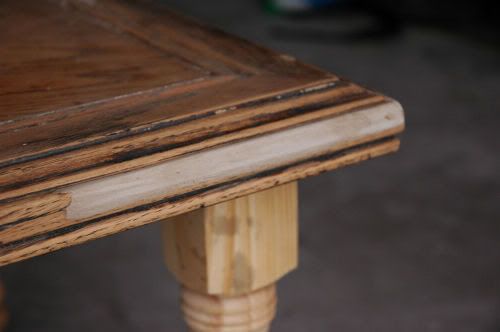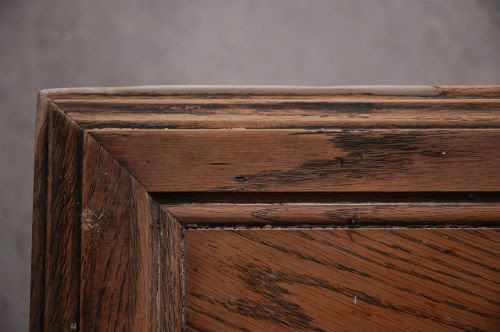 Clearly, the table needs to be painted, but once it's all the same color, you will never be able to tell that this piece of moulding was repaired. See? I told you it was magic! Once my table is finished, I dare you – dare you – to find the spot I repaired. You totally won't be able to do it.
Wood epoxy putty has opened up a new world to me. Before, I only knew about wood filler, which has nothing on wood epoxy putty. Are you ready to run out and buy some to try right this very minute? Yeah, I thought so.