I really enjoy visiting thrift stores to see what kind of goodies I can find. Zack loves it, too, so we make it a fun Mother/Son outing, usually ending in a Starbucks run.
He likes to look for "treasures" at Goodwill, and he always seems to manage to find a toy that has to come home with him. Some of his favorite toys are the cheap, used toys that he picks out at thrift stores. I'm pretty certain that we have more three-wheeled toy cars than any other household on Earth.
We also have several plastic pots, since they apparently make the best dog toys EVER.
I'm a bit more picky about my "treasures" than Zack is, but I still manage to find quite a bit of great stuff. There's really nothing quite like taking something ugly and turning it into something great. It gives me a warm fuzzy feeling on the inside. Or, maybe that's just the paint fumes finally getting to me.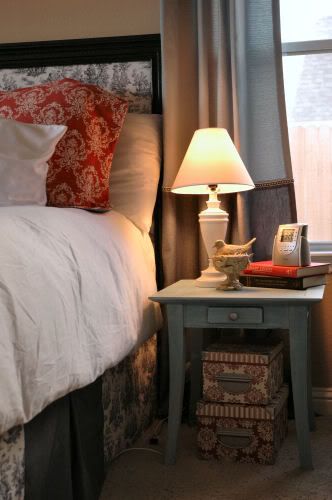 Pretty cute for $4 and a can of white spray paint, huh?
People often say to me that they wish they had my creativity or had my ability to see the inner beauty in ugly objects. Well, it's not rocket science. AT ALL. In fact, it's more trial and error than anything. Believe me, there have been a LOT of errors throughout the years. Just ask my husband about that dresser we got for free on CraigsList several years ago that basically fell apart as soon as we got it out of the car. Scrap wood, anyone?
If you've been too nervous to jump into searching CraigsList, garage sales, or your local thrift store, let me hold your hand and lead you down the path of repurposing! Here are a few of my favorite tips to keep in mind:
I encourage you to go to thrift stores often. I go to my favorite one at least once a week. I think the best items are to be found on Tuesday mornings (or during your Tuesday lunch break if you work outside of the home). Remember, most people clean house and donate their unwanted items to the thrift stores on the weekends. The "Tuesday Plan" gives the store staff all day Monday to put out the new goods, so you are most likely to have the best selection on Tuesday.
When looking for furniture, look past the color of the piece and the ugly hardware on the drawers. All of that stuff can be changed. You first need to find something that is the right size and shape for your home, just like you would in the fanciest of furniture stores. Once you find a piece that meets that criteria, you need to figure out if it's sturdy enough. You don't want it to fall apart like my dresser. Shake it a little bit and see if it's wobbly. If it is wobbly and you don't consider yourself good with a cordless drill and wood glue, keep on walking. If you see it's a little shaky in the joints and have a husband who humors you enough to put a few extra screws where it's loose, then go for it!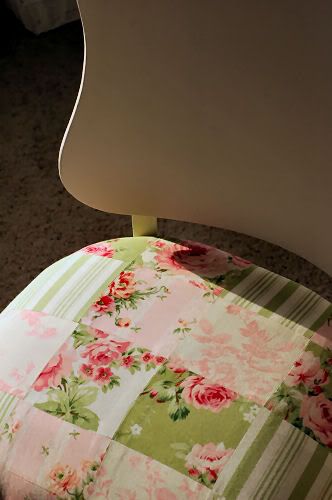 This chair was $10 from Craigslist. I loved the shape of the back, so Tom and Zack helped me sand and repaint the chair an antique white. I sewed a new cushion and it's now my super comfy (and super adorable) sewing chair.
ALWAYS look at the clearance aisles when you go to craft stores, home stores, or even department stores. ALWAYS. I posted yesterday that I found some great buys at Hobby Lobby for 80% off. Today, I went to Target to pick up a birthday present for Zack's buddy, and I found a $4 white square bamboo tray in the process (originally $20). I have no clue what I'm going to do with it, but I will figure it out.
If you see something and can't get it out of your mind for a few days, GO BACK AND GET IT. I saw a purple desk at Goodwill on Tuesday and it suddenly hit me today that I had to have it. Zack and I ran over there and I actually had to fight off two other people for it.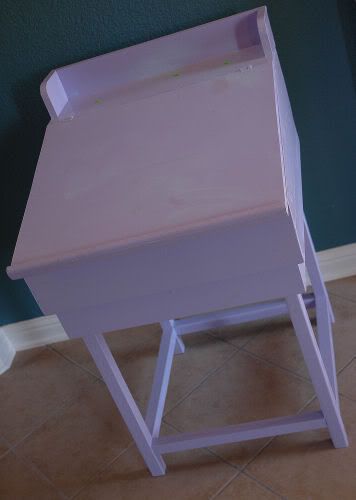 The
after
is in my mind…but cross this:
with this: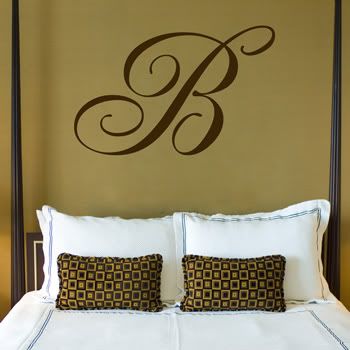 It's so beautiful in my mind…I hope it turns out that way in real life. If not, it'll be another mistake to add to my list like a notch in my belt.
Most importantly:

Don't worry about making a mistake! If you totally ruin a coffee table you bought for $10 at Goodwill, then you are out $10 but have probably learned something new. As my mom used to tell me, "I'm sure you've wasted $10 in worse ways than that." My mom is always right.
New to repurposing? Tell me what you want to create for your home and what you will look for when you start your search. An old repurposing pro? Tell me about your favorite project that you've completed. Have questions? Ask them here and we can all try to answer them. Let's have a little repurposing party in the comments section!
This week, Kristen at We Are That Family his hosting a "greatest tips" Works for Me Wednesday. Since I love thrifting tips, I thought I'd include th
is post. For another great tip, check out Teach Me Tuesday!