When we moved into our new house, my mother sent me a few of her home dec books to use for decorating ideas. I was so excited to get the books…until I opened the box.
The first book I flipped through was entitled Creative Window Treatments. Being as that we have eleventy billion windows in this house, I was excited to get some ideas. The book was published in 1991, which is almost 20 years ago, but I thought there would still be some stylish examples in the book.
I must have forgotten how horrendously awful the early '90s were.
This, my friends, is called a "Vent Hose Cornice." It is literally a tube of fabric gathered over vent hose. Like the vent hose that runs from your clothes dryer to the dryer vent. I'm not even kidding, although I wish I was. True story.
This next one is really cool. Or maybe I should say "rad." At any rate, I'm pretty sure this was actually in Zack Morris's bedroom.
The last beauty that I wanted to share from this book is this horribly off-balanced treatment. I cannot get over how incredibly heavy it is on the left side and how light and airy it is on the right side. Someone thought this look was fabulous – and worthy of being near the front of the book – and that makes my head hurt…a little more on the left side than the right.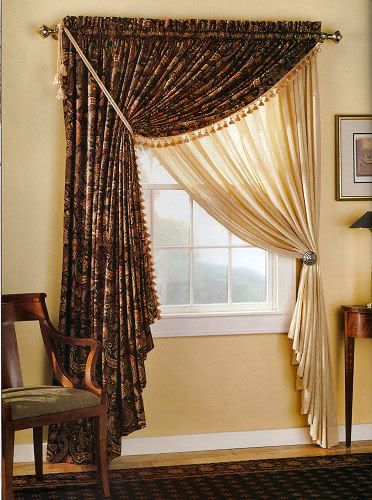 Because there were too many great window fashions for one book, the same authors released
More

Creative Window Treatments
. I am so glad there was a follow-up to the first installment.As seen in beach rental houses all across Florida, you have the "Hobbled Roman Shade." Each of the folds in this shade has literally 8 inches of fabric. It took the authors 21 steps to tell you how to make this beauty. Twenty-one steps.
They also think that no room would be complete without a "Buttoned Valance." I love that this look is described in the book as "tailored simplicity." I think that maybe I have a different definition of "simplicity."
The further into this book you go, the more "creative" these home dec options become. Take for instance the African violet tie backs…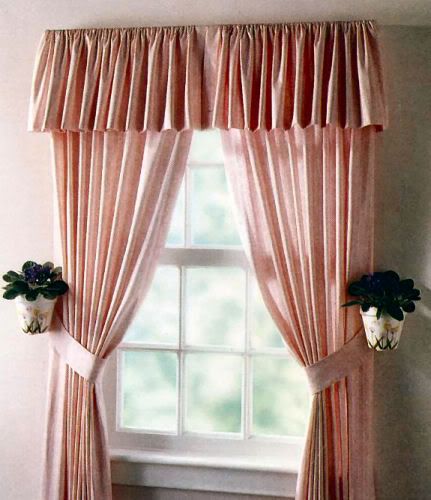 …or the "seasonal" display of the straw hat collection.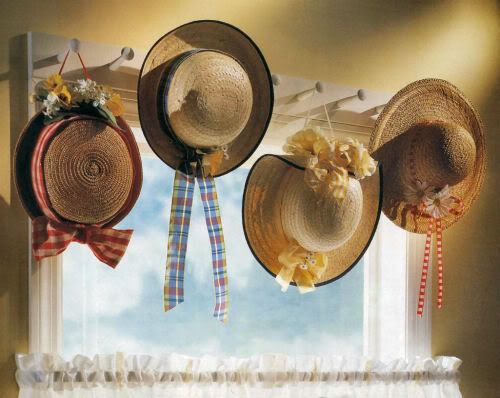 I really hope there's not an
Even More

Creative Window Treatments
book out there somewhere.Not to be outdone, Singer released it's own book,
Sewing Projects for the Home
. This book definitely has some interesting window treatments. In fact, I feel that I have no other option but to quote directly from the book in describing the next valence:
Multiple drapery rods are used together to create a dramatic top treatment. In the treatment shown here, wide curtain rods are covered with rod sleeves and the contemporary metal pole sets are left uncovered.
Wow. Just wow.Singer presented us with more than just window treatments. They explained how you could use bows on the corners of your bedding to tie in other bows you may use throughout the room (check out the shiny bed skirt!).
Okay, if any of you have bows tied to the corners of your duvet, let me know right now so I can plan a trip to your house to rip them off. I can be there this week if needed.However, if you have one of the below pillows on your bed, I won't be able to make the trip for fear that it may eat me a la
Little Shop of Horrors
.
Feed me, Seymour!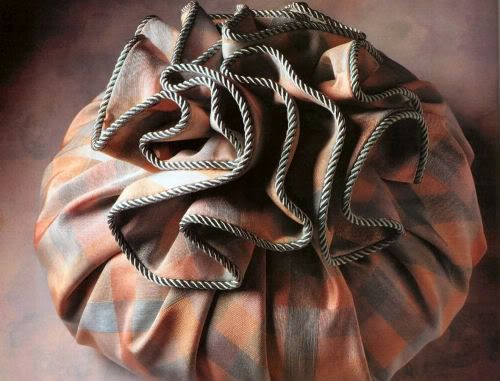 As you can imagine, I really wondered why on Earth my mother would send me these books. What could I possibly want to duplicate from them? Thinking she was crazy, I quickly shoved the books into the closet in my sewing room and forgot they were there.A few months ago, I was cleaning out that closet and came across them again. I cracked them open, because I was in need of a good laugh, and it was only then that I realized the true beauty of these books.
Design styles and fabric choices may come and go, but the backbone of home dec sewing remains the same. All three books have detailed step-by-step directions for sewing lined draperies, measuring the windows for formal treatments, working with self-styling tape, and more. I have all of the elementary education I need within these three books, but I can use my creativity to adapt these basic shapes into something spectacular for my home. I made my first set of self-styling, lined curtains and incorporated twisted welting onto a pillow using the instructions in these books. I couldn't be more thrilled with the way they those projects turned out, and I know that I would have been too nervous to attempt such things without what have become my home dec "manuals."
I encourage you to browse used book stores, thrift shops, and even Ebay for these or similar books if you are interested in learning basic home dec sewing techniques. There's really no reason to pay high prices for recently published books on these topics when you can learn everything you need to know from older publications. And who knows – you may need a good laugh one day.
I just hope my mom never wants me to give these books back.