When we built our house last year, our neighborhood was just in the beginning stages. Only four streets had been added to this former farm land, and our home was one of the only ones on the far west side of the neighborhood. With no neighbors on either side and no neighbors behind us, we could look out of the rear windows onto an open plain and see every star in the big Texas sky. As you can imagine, it was absolutely tranquil.
Then, the hammering started. And new roads were built. And more and more neighbors came to join our community. We absolutely love having families nearby with children the same age as Zack, but we really miss the privacy we used to have.
As the homes behind us are being built at an alarming rate (seems fast to us, but I'm sure it's taking FOR.EV.ER for the families waiting on them!), we're suddenly realizing that we have a problem. We have a two-story living room which I absolutely love, but that means two-story windows. The windows let in so much light that we never have to turn on any other light source until it is pitch black outside, so we opted for static window treatments on either side of our bank of windows.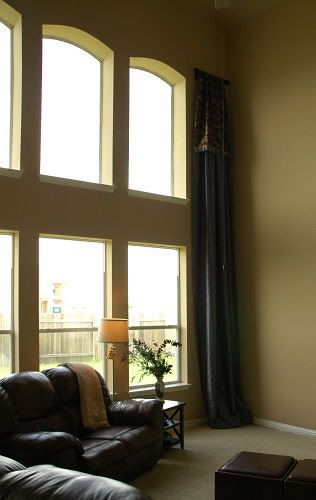 I'm not too concerned with our privacy during the day since we don't turn on any interior lights and you really can't see in these windows at that point. My main concern is at night – especially if the house directly behind us is going to end up being a two-story home, too. You would be able to see directly into the lofted second story catwalk and playroom of our home if the lights are turned on. Even if there is nothing "good" to see, I just don't like the feeling of someone being able to see me walking up and down the stairs and playing with my son in his playroom.
I have started to look for privacy solutions for these windows, but I haven't found anything I think will work for us. My options seem to be:
1. Frosted privacy film – This film, which you can apply yourself, lets light in through the windows, but makes the windows translucent enough that no one can see in. The film is great for privacy at night, because it even blocks the the view into your home when it's dark outside and light in the house. My problem with this is that if I used it on all six windows, I wouldn't be able to actually see out into the backyard, which is a major deal breaker for me. I guess I could use it on just the top windows, but I think it would look odd to only have some of the windows frosted.
This product, by Gila, is available in DIY kits at Home Depot.
2.
Mirrored privacy film
– Like the frosted film, privacy film is also available in a mirrored finish. Like the interrogation room windows you see in cop movies, you can see out, but no one can see in. I thought this would be a great solution, until I realized that it only works during the daylight. Once lights are turned on inside the home, the film is useless. For my needs, the mirrored film is pretty much useless.
Another Gila product available at Home Depot.
3. Wood blinds – Wooden blinds seem like the most reasonable solution to my problem, with one exception. It would be a nightmare to have to open and close the ones on the top windows. I think I would want the top windows open during the day so I wouldn't have to give up my light. There are options available for motorized blinds and shades, but I'm scared to even price those!
One option would be for me to make (or purchase?) a really, really long tilt wand that would hang down low enough for me to tilt the blinds.
Image from House Beautiful
6. Shutters – I absolutely love the look of interior shutters, but again we have the question of how to open and close them. I feel like the shutters would be even more difficult to adjust than the blinds.
Image from House Beautiful
5. Hope for the best – The last option I can come up with is just hoping for the best. Maybe our new neighbors will never look out of their windows and it we won't have anything to worry about, right? If the houses behind us are single stories, maybe we won't have to do anything at all…
If you were in my situation, what would you do? Can you think of any other options that I haven't considered? What do you think would work out best for my windows? Help!