On Sunday, I met up with my good friend Kristi for our weekly bi-monthly whenever we aren't feeling lazy bike ride. We used to train together a LOT last year during triathlon season, but this year we are taking it easy for a number of reasons. But, mostly it's just my own laziness. We have an urban adventure race we are racing in on June 27th, so it's time to get serious again.
Kristi showed up to our ride with a shopping bag in hand and said it was a little gift for me. Oh, how I love gifts! She had recently cleaned out her storage building and came across a little something she thought I would like.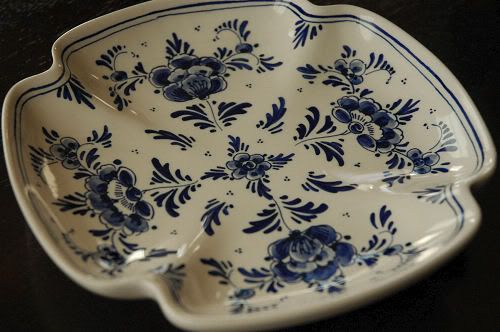 She was wrong. I didn't like it…I LOVED it!
After she acted silly and said I didn't have to keep if if I didn't like it (HA! Whatever!), she explained that it was a delft plate from the Netherlands. It's a Delftse Pauw piece and is hand-painted and numbered.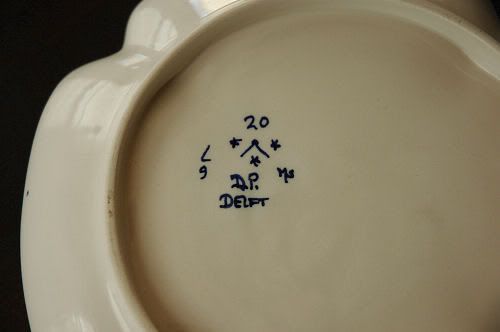 The hardest part of accepting this gift was deciding where to put it in my home. We all know I'm crazy for plates, but I wanted to find a really perfect place for this new one. I ultimately decided that it would look great on my nightstand as a little catch-all for all the "stuff" I put on top of it when I go to sleep.
Besides her fantastic taste in
Delftware
, Kristi can cook like nobody's business. At the beginning of 2008, she decided that she would visit a local farmers market each week and publish a recipe on her blog using in season ingredients purchased at the market. She's also been doing a lot of work supporting our local
Sustainable Food Center
. If you like to cook or just like to salivate over yummy recipes, you definitely need to check out Kristi's blog, Austin Farm to Table. It's always fun to be her guinea pig and test out new recipes. She has never disappointed!
A friend who can cook AND gives you gorgeous clayware? What more could a girl ask for? Thanks for being there, Kristi!