The year I went off to college, my parents left our home state of Texas and retired to the Florida Keys. They were too young to be officially retired, but thought of their new relaxing life as retirement nonetheless. Then life changed, as life tends to do, and they decided to move to Tennessee to be closer to my mother's aging parents.
Going 'home' for me as an adult isn't really going 'home.' My parents live in a gorgeous house, but it is in a teeny little town with little more than a McDonald's and a Walmart. Their little Tennessee town seems like it's on a different planet than my hometown of Austin, Texas. Things here are just so…strange.
I never feel comfortable out and about in their town, but I feel more comfortable than ever inside their home. Although the furnishings (other than the antique grandfather clock and armoire I lust after) are totally different than the ones I grew up with, they are warm and welcoming, just like Mom and Dad.
Every time I walk into their home, I am drawn to the custom window treatments that cover the breakfast room windows. They are simple, yet classy and unique.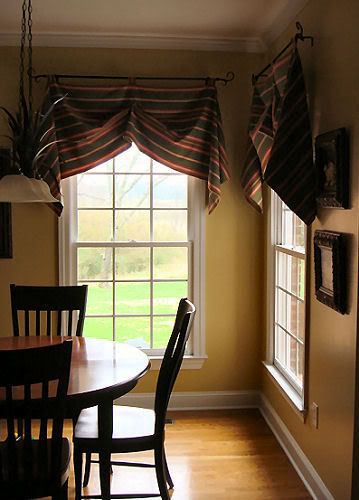 Sorry for the lousy photos throughout this post. I used a point and shoot camera for these instead of my normal DSLR.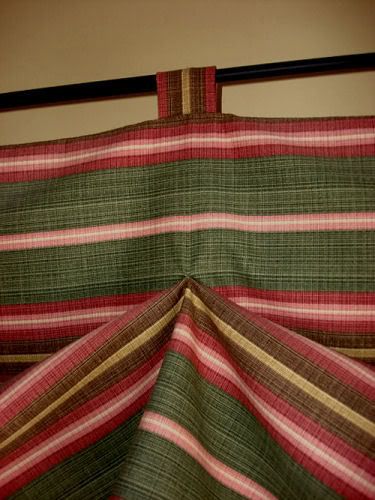 I check the window treatments out during each visit, trying to figure out how best to replicate them in my own home. During this trip, I finally figured out that all I needed was a
glue gun
and a
safety pin
.
Seriously, it's that easy folks.
Let me show you how!
SUPPLIES:
Home Dec width (54″) fabric – you'll need 2 1/2 times your window width
Scissors
Iron
Glue gun or fabric glue
Safety Pin
Cut a 7″ width strip off the length of the short edge of your fabric and set that aside. You'll be using that piece in a bit.
With your large piece of fabric, fold in half so that the raw edges with the printed fabric information (not the edges cut at the fabric store) are together at the top. This is likely how your fabric came off the bolt, so just make sure that the upper edges are even. Press the fold so that it creates a nice straight line.
Next, open your fabric and press in every side by 1/2″. You'll do this on the top and the sides.
Fold your fabric back in half lengthwise at the first crease mark you made. All of your raw edges should be folded inside the piece of fabric.
Using your glue gun or fabric glue, seam the short sides of the fabric together. This will essentially create a long rectangle with an open top.
Here's where you have a decision to make. You can make the fabric tabs like the ones in the curtains above or you can use drapery rings to hang the curtain from the rod. If you want to use drapery rings, you can skip down to where I put a *** in the post. If you want to use the tabs, continue with the directions as written.
Grab the 7″ wide strip you set aside earlier, and cut three 8″ long pieces out of it. You should end up with three small pieces that are 7″ wide and 8″ long.
Go back to your ironing board and turn in the long edges 1/2″ on each of the small pieces. Then fold the long edges together so that the width of each piece is 2 1/2." The sides of each piece will slightly overlap on the back. You just need to play around with it a bit to get it to work.
Then, fold each small piece in half so the raw edges meet and press a crease. You'll end up with three small pieces measuring about 2 1/2″ wide and 4″ long (when folded in half).
Go back to your large piece of fabric and find the center of the open side. With about 2 1/2″ of a short piece above the open side, glue the short piece in place.
Glue the other two short pieces in the same way, but space them so that these two tabs will hang on the outer edge of the curtain. Use your measuring tape or ruler. I just eye-balled the spacing for this tutorial, and you'll notice later that I didn't space them far enough apart.
(***Welcome back, drapery ring users!) Close the top seam with your glue gun or fabric glue.
Your curtain is now ready to hang! You can hang it as is and I think it looks perfectly delightful. Fuss with the folds a bit, fluff them out, and you are good to go.
Or, you can take it one step further, which you is what I would do. 😉 Visually divide your curtain into three horizontal sections. Pinch the top of the bottom third and bring it up to the top of the middle third.
Use your safety pin on the backside of the fabric to pin the little pinch into place. You could be totally fancy schmancy and use a needle and thread to tack it in place, but why would you go through that effort when you could just use a safety pin? Yep, that's how I roll.
My mother always told me that 95% of window
treatments is the fluffing, and she is absolutely right about that. Pull and tuck and fold and fluff until you get them exactly how you want them.
I think mine turned out really great – especially for $3/yard fabric, a glue gun, and a safety pin. Dare I say they look better than the ones that were custom made?
With using nothing but a glue gun and a safety pen, I think the Nester would be proud.
Does this window treatment work for you? It sure works for me! Visit Works for Me Wednesday over at We Are That Family to see more WFMW fun.