I get a lot of repeat questions emailed to me and left in the comments section of the blog. I love reading what you guys want to know that I haven't told you. Here are a few answers to your most burning questions.
Dining Room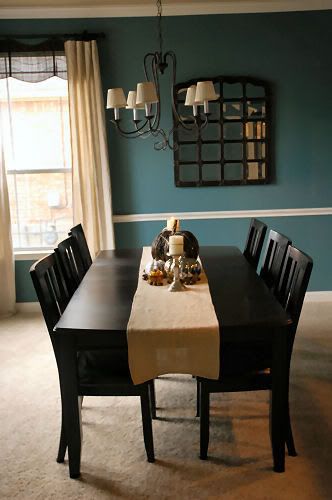 What color is your dining room painted?
It's Smoked Turquoise by Glidden, and I love it. We painted it this color the day we closed on our house. Other than my son's room, it's the only other room that's not currently builder's beige. The next room that's going to get a coat of paint will be our powder room, and it's going to be in the same shade family as the dining room.
Where did you purchase your dining room furniture?
We bought our furniture at Ashley Furniture. We've had it for about four years now, but I think they still sell this collection in their stores. Although it looks black, it is actually a very dark espresso brown. We have the table, six chairs, and a china cabinet from the same collection. I'd like to add another piece under the mirror, but I want to vary the furniture in that room a bit. The mirror itself was 50% off at Hobby Lobby years ago.
Coffee Table
What color paint did you use on the Britney Spears table?
This poor table has about five coats of paint. I started with my free can of Antique White from Glidden, but it was too bright white. So, I started mixing colors together from my stash. I still wasn't happy. I eventually found a half-used can of Behr Antique White from this project, and it was perfect.
Did you paint it was a brush or spray it?
I painted the table with a brush. I'll be honest that I didn't use enough paint at first and there were visible brush marks. I had to sand down the paint at bit and reapply with two thick coats. It's not perfect, but it's perfect for me.
What type of trim did you use?
At the bottom of the wainscoting, I just applied a section of half-round trim that you can find in any home improvement store. It's not fancy, but it gets the job done.
Where did you get the table legs?
I bought the legs at Lowe's. I was very interested in some legs found at TableLegs.com, but I was too impatient to order them and too cheap to pay shipping.
How did you seal the table?
Normally, I use wipe-on poly to seal my furniture. But, I was worried about it yellowing on this white table, so used spray-on Polycrylic for the first time. It was easy to apply (it comes in a can like spray paint) and I didn't have to let it dry for as long as I do with regular poly. Also, since it's acrylic, it's able to be cleaned up with water. Polycrylic can be found at home improvement stores in the same aisle as the polyurethane.
Painting Laminate Furniture
Do I have to wait the full cure-time of my primer when painting laminate furniture?
Well, I guess you don't have to wait that long, but I wouldn't recommend it. You have to remember, when painting laminate furniture, you are basically painting plastic. If you let the primer fully cure (not just "dry," but "cure"), it gives it the chance to fully cling to the plastic surface and make it much less resistant to scratches once you paint the surface. I know it's a pain to leave a piece of furniture curing in your garage for a week, but I think it's a bigger pain to have to redo a scratched paint job later.
Any other questions you guys have for me? Leave a comment or send me an email and I'll do my best to answer it!