I really hate mushrooms.
Now, before you've think I've gone off the deep end and have started ranting about pizza toppings, let me clarify. I don't hate mushrooms: the fungi. I hate mushrooms: the lights.
See that one above my kitchen sink? It makes me completely crazy. It gives off very little light, and it's pretty much just an eyesore that you can see from both the kitchen and the living room.
In my effort to rid the world of mushroom lights one fixture at a time, I knew that this one had to go. I wanted to wait until I found the perfect chandelier to replace, and I luckily stumbled upon it at the City-Wide Garage Sale last weekend.
What do you think of the new chandy that replaced that ugly fungus of a light?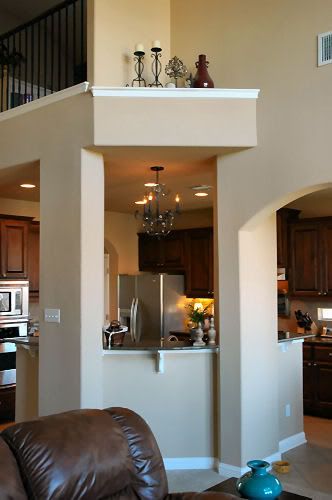 Come closer my pretties…
Still closer…
Ahhh, isn't it fantastic? It has three "candles," three different little birdies, and lots of bling. It's impossible that I could love a light fixture any more than I love this one. We installed it on a dimmer, so we can make it as bright or as dim as we would like. It's nice to have the bright light while working in the kitchen, but we like to have it softened in the evenings when we are enjoying our living room.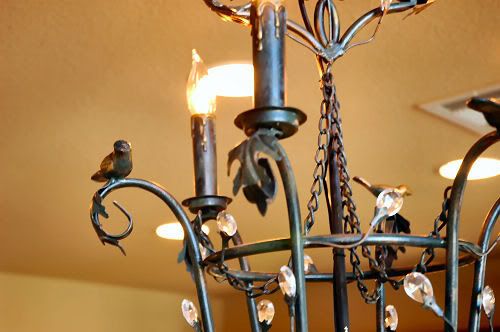 The thing is, Tom didn't love it when I brought it home. In fact, I think his exact words were, "Where are you going to put that ugly thing." Tsk, tsk.
Sometimes, Tom's right, though. He helped make some upgrades to the chandelier that really made a big difference. Before, it seemed too long for our space and just looked very heavy.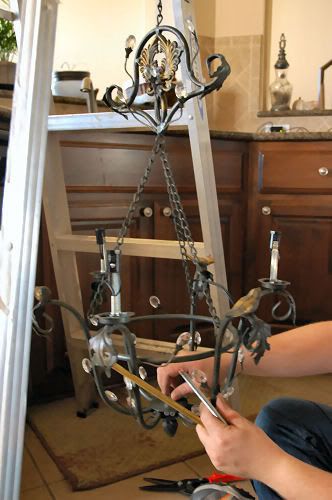 He suggested making some changes to the shape of the fixture. What a catch I have, huh?
After adding a length brass tubing, some wire to hold it up, and a touch of black craft paint, Tom even loves it. Hooray for a smart husband and a "ghetto" fix. Whatever works, right?
So much nicer than a cheap, boring mushroom light, don't you think? Now, I just have to find replacements for the six (!) other ones in our house.