If you've been playing along with my Making Your Dream Room a Reality series, I'm sure you're ready to move on to the next step of your planning, right?
Though this series, we have:
Identified our decorating inspiration;
Decided why we think each photo is inspiring; and
Determined what won't work in our households
Now's it's finally time to get those creative juices flowing!
Part Four – Determining How You Can Work With What You Have
You hear this mantra a lot in the blogger/decorator world, but you should always try to
work with what you have
before you spend a single penny. Move furniture around, shop other rooms in your house, think of new uses for unused items.
Even though it's more fun, this part of the process is actually more difficult than the previous steps. It's always hard (for me at least) to envision how items I currently have in my home will work in a different space. This is a process that you just have to let go a little bit and trust yourself, which is a hard thing to do.
Hang a mirror on a bookcase to completely change the look – from Pottery Barn.
When working with what you have, it's perfectly acceptable to change the look of an item or use it for a new purpose. Some things to consider:
Can it be painted?

You can even paint that cheap laminate bookcase.

Can it be restained?

Sometimes, all you need to do is repair a few surface scratches and give a piece of furniture a fresh new coat of stain. Kimba says that the gel stains are super easy to use.

Can you add fabric?

New window treatments and throw pillows can make a huge difference in changing the look of a room. Have you seen the Nester's 30-minute pillow makeovers?

Can it be repurposed?

Find new uses for common items. Emily has even used chairs and stools as nighstands!

Don't like your flooring?

Cover it with a rug, a much cheaper (and quicker) alternative to hardwoods, tile, and new carpeting.

Need new-to-you furniture?

If your family's sofa has seen better days craft a simple slipcover, check CraigsList, garage sales and thrift shops before you hit the furniture store. Be patient and the right piece will almost certainly fall into your lap.

Accessories aren't the right match?

Does your current Southwestern style accessories not match your Beach Cottage dream room? No worries! Think about how you can transform them (think spray paint!), and if that doesn't work, hit the CL, garage sale and thrift shop trifecta again. You could always sell your old accessories to make some cash for new ones, too!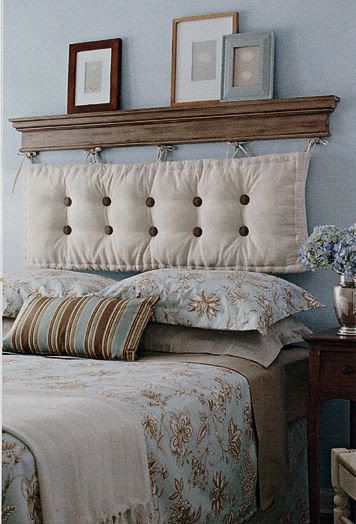 Use a scrap piece of moulding to hang an outdoor bench cushion to create a unique headboard – from Better Homes and Gardens.
So, this week, make a list of the things you already have or can repurpose to fit into your new new dream room. You will be amazed and how close you are to your dream room without even knowing it!
Have questions about how you can reuse or repurpose an something? Email me or leave a question in the comments! I'd be happy to offer you some suggestions.