All it takes for me is to see one photo in a magazine of something I like, and then I'm totally hooked. Like ridiculously, over-the-top, can't focus on anything other than obsessing about it hooked. It's a wonder I ever get anything useful accomplished.
My most recent obsession comes in the form of mirrored furniture. Now, before you think "Ick!" and click away from this post, let me fill you in on what I'm talking about. I'm not talking mirrored headboards and that weird 1980's Yuppie stuff, people! I'm talking about the divine styles that mirror the age of Greta Garbo and Humphrey Bogart. Classic. Glamorous.
And ridiculously expensive. If you have about $600 for a nightstand in your budget,
Horchow
is ready to make it happen.
The thing is, mirrored furniture doesn't have to be done in a boom-chicka-bow-wow type of style. Mixing one or two pieces in a traditionally styled room can really add some excitement to your decor.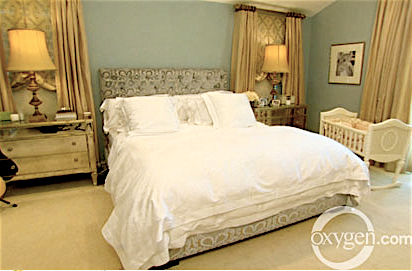 The above is Tori Spelling and Dean McDermott's master bedroom, which is now my inspiration for my bedroom. It's funny how this has been the exact direction I've been heading in that room even before seeing this photo. Thanks,
Apartment Therapy
!
I expressed my undying love of mirrored nightstands and dressers to my friend Darcy, and her comment was, "I'm not sure how I feel about that." Yeah, I get it. It's a little over the top, but I think it can be done very tastefully without being garish. What do you think?
Even if the mirrored dressers and nightstands aren't your thing, you can still add a bit of sparkle by adding a mirrored top to a plain end table.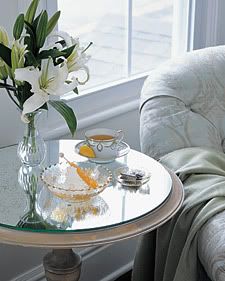 At this point, you've got to know where I'm headed, right? I mean, I don't have a spare $1,200 just lying around, but I MUST have mirrored nightstands and I am armed with a glue gun. Oh my. Stay tuned…
I'm adding this post to Julia's Hooked On Houses "Hooked On" party. I'm definitely hooked on mirrored furniture!