You may have noticed a lack of big DIY projects on my blog over the last few months. No Britney Spears coffee tables. No ugly purple desks. No painting huge laminate armoires.
Lately, I've just felt sick. And tired. And sick and tired of being sick and tired. But, I have a good reason why.
I am now able to joyously announce that Zack's biggest wish has come true. He is finally going to be a big brother.
As you can imagine, we are simply over the moon that we'll have a second little one joining us in August. I think this is the one ultimate DIY project that doesn't need a tutorial.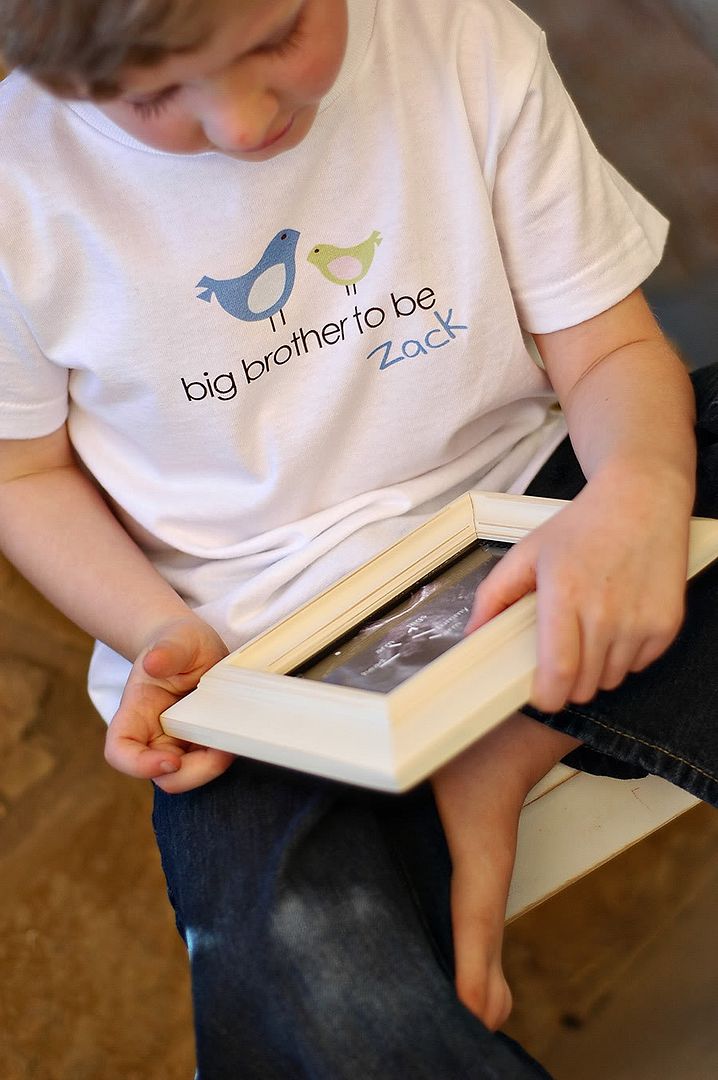 Zack is absolutely over the moon. He is so excited about "his" baby and wears his brother-to-be tee every single day. I actually had to buy him a second one, because I was getting tired of washing it every night.
He has grand plans of "baby brother" sleeping with him in his bed as soon as he's born. It's too early for us to know the sex of the baby, but Zack and I are both 100% convinced (and super excited) that it will be another boy. My husband, Tom, isn't making any predictions. He's no fun!
I'm at the end of my first trimester, and we've had our 12 week scan to make sure everything is looking good. I'm hoping that I will be back to my energetic, DIY self in the next few weeks.
We can't wait to meet you, Baby B!
I want to give a huge thanks to my long-time friend JJ of The BLAH BLAH BLAHger and Jen Johnson Photography. I took these photos of Zack and she waved her magic editing wand on them (all while keeping my pregnancy a secret). I love you, Jen!
I also ordered his shirt from Zoey's Attic. It's so adorable that I know that some of you would be asking. I can't wait to order matching Big/Little tees once the baby gets here.
********************
It's time to announce the winner of the Cap Creations jewelry giveaway! Out of 309 comments (gah!), the random number generator selected Commenter #25:
Congrats to Natalie! I'll get you in contact with Cathy so you can make your selection!
If you weren't the big winner, don't forget that you can receive 15% off your Cap Creations purchase by entering LWL15 at checkout!