Four years ago today, Puxatony Phil saw his shadow.
Want to know how I remember that? It's because it's the same day that my own little Groundhog didn't see his own.
My sweet baby big boy turns four today. I can't believe how quickly these past four years have just flown by. It still seems like yesterday that I was in a panic, because I was actually responsible for taking care of another human being.
Today is much different though. I still panic more than I probably should, but being the mother to a little boy is so much fun – a complete joy. I couldn't ask for more.
In order to celebrate his big day, we hosted a Hot Wheels-themed birthday party in Zack's honor this weekend. And like the DIY Dorks that we are, we decided that it would be fun to build a huge ramp for the kids to race their Hot Wheels. I give my husband full credit for his masterpiece (he created this from white molding of some sort from Home Depot):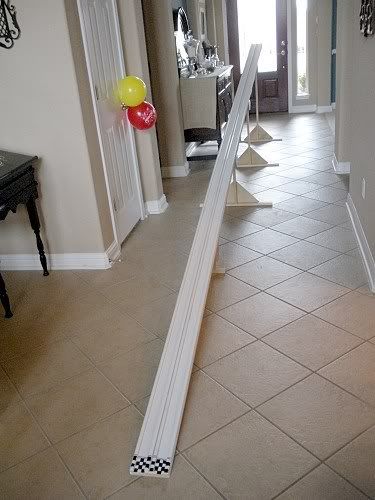 As you can imagine, the kids thought it was just the coolest thing ever. Tom helped them set their cars up for the big race, and they all cheered as their cars zoomed to the finished line.
However, the boys soon decided it would be more fun to be a "tunnel" than to be the one racing cars.
It wasn't long until everyone was a tunnel and no one wanted to be a racer…so we turned to cake.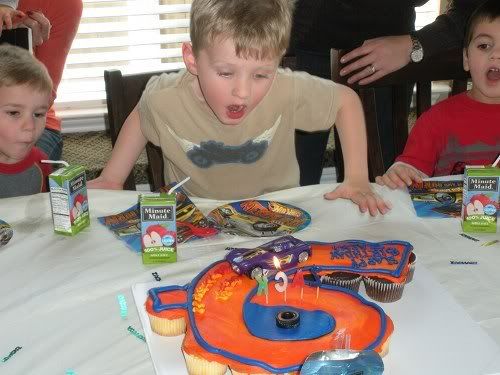 There also may or may not have been a pinata that wouldn't break until Tom took a crow bar to it. I kid you not. It was solid cardboard. Note to self: do not buy pinata's at Target.
Even with the pinata incident (which was actually quite hilarious to the adults), a great time was had by all. Happy 4th Birthday, My Little Groundhog!