Every time I open my mailbox and find a new Pottery Barn catalog waiting on me, I do a little happy dance right there at our neighborhood's mail kiosk. I'm sure my neighbors think I'm insane, but I'm also sure it's not the first time that they have thought that about me.
I never actually buy anything at Pottery Barn. In fact, I can probably count on one hand the number of items we have in our home from the store, and most of them were given to us as gifts. You see, my neighbors may think that I am insane, but I think the prices at Pottery Barn are what's really insane.
Why do I get excited about the Pottery Barn catalog then? Well, because I use it as inspiration, of course! It's easy to get Pottery Barn style on a much more reasonable budget. Starting today, I'm going to begin showing you how, and I'll have more examples in the coming weeks and months ahead. I think I'll even make a little series of it.
In the most recent issue, one of the layouts I was particularly drawn to was this one:
As a cyclist, I love the tandem bike stretched over the four canvases. As a starfish fan, I love the collection of white starfish in the glass display box. What I really love about this photo, though, is the floral arrangement.
I might be biased as peonies are my favorite flower, but I absolutely love the combination of the flowers and the seashells at the bottom of the vase. How gorgeous! I knew I could easily put this arrangement together in my own home, and you can, too.
I found a small bouquet of freshly cut pink peonies at the grocery store. I just bought one small bouquet since I wanted to put together a smaller scale version of the Pottery Barn arrangement. Maybe one day, I'll plant some peonies in my backyard and I won't have to buy the blooms at the grocery store. Sigh…
Next, I added a few handfuls of seashells to the bottom of a small, fishbowl style vase. I have a ton of seashells lying around that I purchased at my last trip to the beach, but you can buy them at craft stores or even dollar stores if you don't have any on hand.
I filled the vase about three-quarters full of water and cut my flower stems so that the blooms were just above the top of the vase.
I added the arrangement to the top of one of the end tables in my living room. It looks very, well, Pottery Barn, doesn't it?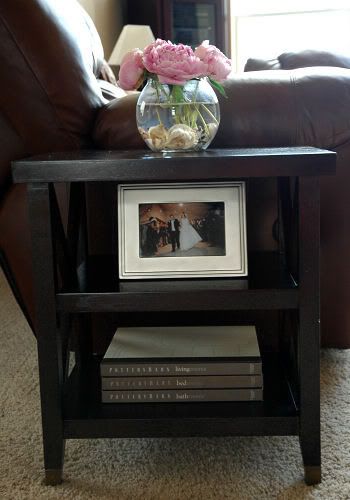 I am absolutely in love. The peonies are very fragrant and fill the entire room with their deliciousness. I rarely treat myself to fresh flowers, but I think I may have to start doing so more often!
Inspiration is everywhere – even right there in your mailbox. You just have to know where to look!