I really love apothecary jars. There is something so innocent – so refreshing – about an empty vessel just begging for a beautiful display. When I find apothecary jars at thrift stores for $3 or $4 each, I snap them up like crazy. You've probably seen me grab one in Goodwill and give a Tiger Woods fist pump because I'm so excited with my new score.
Because I know you love them as much as I do, I want to give you a little encouragement and a little push towards filling them with unique displays. People, it's time to start thinking beyond pasta and pears, cotton balls and cotton swabs when it comes to filling your apothecary jars. Using your jars to showcase unique finds will give your vignettes much more personality than filling them with the lemons you bought for 5/$1 at the grocery store.
I've put together a list of 10 fantastic apothecary jar fillers that will hopefully guide you in the right direction to update those displays.
1. Vintage Spectacles – Just imagine the scenes that have been viewed through these lenses. Antique glasses are available at thrift stores, antique malls, estate sales, and even yard sales. Add two or three pairs to a simple jar, and you'll have a display that everyone will want to "see."
2. Soap – For an apothecary display in a bathroom, nothing beats a collection of beautiful soaps. Choose natural-colored soaps in the same hue, instead of in a color that matches your room. Find wonderful guest soaps at discount home stores, or use drugstore bargains, such as Aveeno or Ivory. Better yet, purchase monogrammed soaps to add a personal element to the display.
3. Vintage Photos – One of my favorite apothecary jar fillers is vintage photos. I have always loved the boxes of photographs I see in antique stores, and I decided that I wanted to replicate those displays myself. For my jar, pictured below, I found a selection of vintage photos online, printed them on cardstock paper, cut them out, and then tore the edges and creased the image until it looked appropriately worn.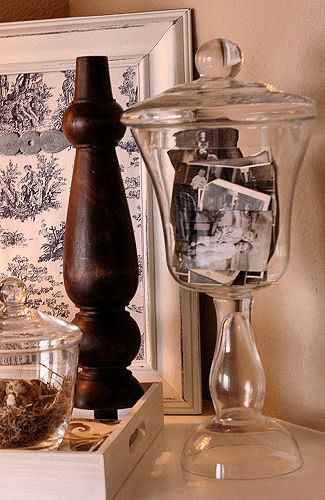 Don't you think they actually look like real photos? Because I knew that you'd love this idea, too, I assembled the photos into a .pdf file for you to use in your own displays. Find that document HERE. Am I the nicest person ever or what?
4. Vintage Hairbrushes and Combs – Along the same lines as the antique photographs, I would love a display featuring vintage hairbrushes and combs. You can find some really beautiful dressing sets in antique stores or online. Keep in mind that a child's size set would probably fit into your jar easier than an adult's size (unless you had a very tall jar).
5. Sea Shells and Starfish – A universal favorite apothecary jar filler is sea shells and starfish. Keep your shells in the same color scheme and only fill the jar halfway so that you don't end up with too much of a good thing. Break the mindset that shells and starfish only belong in the bathroom. What's with that anyway? Do we think shells can only be displayed where there's water? Does the ocean remind us of the toilet? Weird, huh?
6. Knobs – Some of the most interesting (and cheap!) items to add to an apothecary jar are vintage knobs and drawer pulls. Find them for $0.25 a piece at places like the Habitat for Humanity Re-Store or yard sales. Your collection will be eclectic but will have a fantastic quality because the pieces are all variations of the same theme.
7. Rocks – Using natural elements in the home is very important, and nothing could be more natural than my son's rock collection. Adding his treasures to an apothecary jar meant that I had a natural (and FREE) filler, and it is extra special to him because he got to use them to "decorate with Mama."
8. Silver Cups – A few sterling silver baby cups displayed in a large apothecary jar would make such a sweet display. Stack them randomly on top of each other to create a tower. I've seen several of these little cups at Goodwill lately, so start hitting your thrift store in search for a few. They don't even need to be in great shape – the more dings and scratches, the more personality they have.
9. Blown Eggs and Found Nests – What's not to love about real birds' eggs and nests displayed in a beautiful apothecary jar? In one of my jars, I used Spanish Moss in the bottom as a "nest" and then added 5 or 6 blown quail eggs on the top.
Check out these gorgeous egg displays – quail eggs on reindeer moss and Robin's eggs on a found nest. I love them!
10. Indoor plants– Apothecary jars take on a whole new life when used as terrariums for indoor plants. Add plants purchased at home improvement stores or a local nursery.
You could even grow your own grass. Did you see Kimba's wonderful wheat grass project?
A Soft Place to Land
Are you ready to find something unique and interesting to put in your apothecary jars? Little makes a jar more interesting than filling it with something completely unexpected. Tell me what you are going to add to yours!
Enjoy your beautiful life! Head over to The I
nspired Room to see how others are making their lives beautiful, one simple way at a time.