It seems like $5 won't buy very much any more. A couple of gallons of gas at Exxon. A foot long sandwich at Subway. A Venti latte at Starbucks. That five dollars certainly doesn't stretch very far.
About three and a half weeks ago, I issued a little challenge to the readers of this blog: the Five Dollar Challenge. I wanted to prove that we could in fact stretch $5 further than we thought, that we could put it to good use to create something beautiful for our homes.
For the challenge, I didn't want you to run out to your nearest thrift store and buy a new vase or a picture frame and be done with it. I wanted you to create something with their own two hands using only products found at the dollar store combined with items you already had around your homes.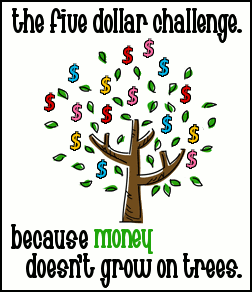 I have been so excited for the big Challenge day to arrive. I've heard from so many of you that you were working on your projects, that you didn't think $5 was enough money, that you REALLY wanted to win the Grand Prize. Well, today's the day you get to show off! After all of the entries have been submitted, one winner will be chosen at random to receive the Grand Prize.
You've read the rules. You've prepared your post according to the instructions. You are ready to link up. Get ready….get set….
Oh, wait. You have to see what I made first!
I found three white frames at the Dollar Tree – one 5×7 frame and two 4×6 frames.
I decided that I wanted to make something to display in the bookcase/cabinet that I have in my sewing/craft room. I recently lined the back of the shelves with some sweet yellow and white striped paper to coordinate with some new fabric I purchased for a window treatment, so I needed some accessories to tie that color into my room.
I found this tutorial to make some oh-so darling paper roses, and I knew that I had to use them in my room. This tutorial is wonderful with detailed photos, so check it out.
I cut some of the left over striped paper to be the same size as the cardboard backing in the frames and used double-sided tape to secure the paper to the cardboard. I then put the frame back together, but put the glass BEHIND the cardboard so I could make a three dimensional design within my frame.
Next, I used the tutorial to make the flowers. I made them in different sizes (8×8, 6×6, 4×4), but here I cut a sheet of scrapbook cardstock paper to 6 inches x 6 inches.
Following the tutorial, I drew a swirl on my paper and kept drawing until it ran off the edge of one side of the paper.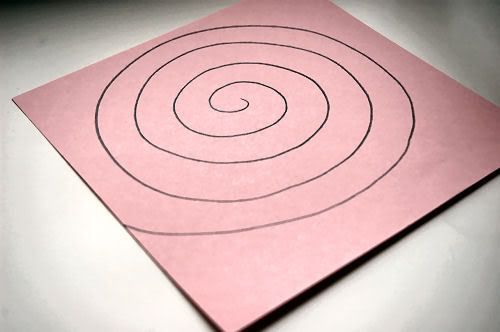 Then, I simply cut on the line I drew until I had a little springy spiral. You will have to cut off the corners of the paper, but that's pretty self-explanatory once you have the cut spiral in front of you.
Starting with the large end of the spiral, I just rolled the paper opposite as I would roll a cinnamon roll (outside –> in instead of inside –> out). When I finished rolling, I had a sweet little flower.
Using my glue gun, I glued three flowers and a little twist of grosgrain ribbon I found in my ribbon stash into the larger of the three frames. I love the little bouquet it created.
I used the same process in the other two frames, changing up the flowers and ribbons to create three pieces of different but complementary "artwork."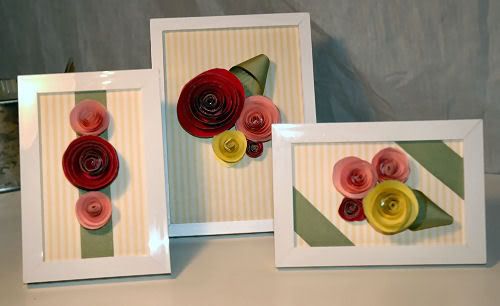 Here are my new pretties in my cabinet: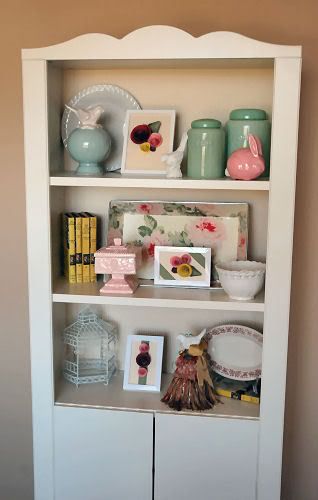 And some individual shots: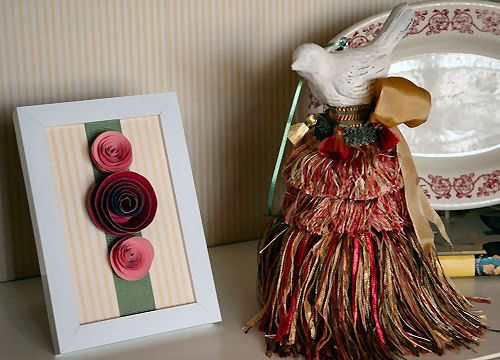 Pretty cute for three dollars and some extra paper and ribbon I had lying around the house, huh?
Okay…it's finally your turn! If you were up for Challenge, show us your creation. Please just remember to:
Insert the link to your specific blog post with your Five Dollar Challenge entry below, not the link to your general blog address.
Include a link in your Five Dollar Challenge post that directs your readers back here to www.MakelyHome.com.
Visit as many other challenge entries as you can and leave comments. I know you want to see everyone else's entries as much as you want to show yours off!
To be fair, I'll have to delete any links to the entries that don't follow these rules. I'll try to contact you if I need to delete your link, but if I can't reach you and you find your link has been deleted, please try again!
Let the festivities begin!