This time a year, I get a little stir crazy. Here in Texas, the weather is warm, but the storms are a plenty. I remember last year it was so rainy outside that we didn't get to "play" outdoors for almost two weeks! That's enough to drive anyone crazy.
The storms roared in with a vengeance this evening, and left behind an amazing amount of hail in our yard (I shared some pics of it on Twitter tonight). Sigh…there are so many things I want to do outside right now – like spray painting, sanding, and priming – but I'm stuck inside just watching the arrival of Spring through the windows.
I wanted to add a little freshness to my decor to get me out of my rainy day funk, so I put together a few tips to help you usher Spring into your home very quickly. Each of these items you should be able to complete in about fifteen minutes, leaving time to enjoy your new surroundings before the sun sets or the next storm rolls in.
1. Re-accessorize – This is something I do in my home quite often, and it always amazes me how this simple tasks really freshens up a room. Simply take ALL of the accessories in one room and pile them in the center of the floor. Take down framed artwork, clear your tablescapes, remove the knick knacks from your display shelves, and basically move anything that is not a piece of furniture.
Once everything is down, start adding the items back into your decor one by one. You'll begin to see things in a new way as you pair a different assortment of items. If you have a little more time to spend, rearrange the accessories in several rooms at the same time. You'll find that as you move accessories around a room or into different rooms, your home will have a fresh, new look.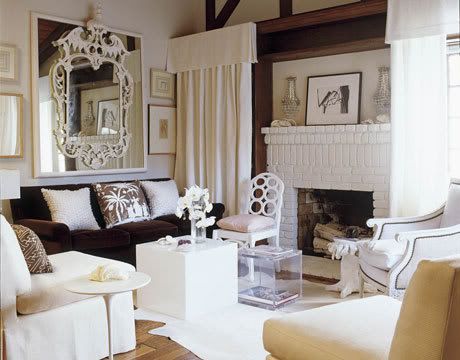 2. Hang a mirror – One of the best ways to add more light to a room and make a space seem larger is to incorporate a mirror into the decor. You can hang it on the wall, lean it on a shelf, or lay it on top of a table as the base for a lovely vignette. However you decide to use your mirror, make sure that it reflects something beautiful. Look around your room and pick out your favorite thing – be it the lovely flowers you can see from your window or that vintage piece of china you found at an antique store – and position the mirror so that it reflects that item.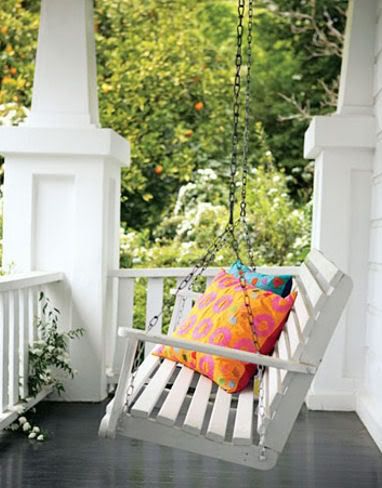 3. Add a burst of Spring color – The great part about Spring is the wonderful color that enters our world after a dreary and monochromatic Winter. Incorporate that color into your home with simple accessories, such as throw pillows or vases. The color will awaken your spirit indoors as much as the early signs of Spring awakens the little birds.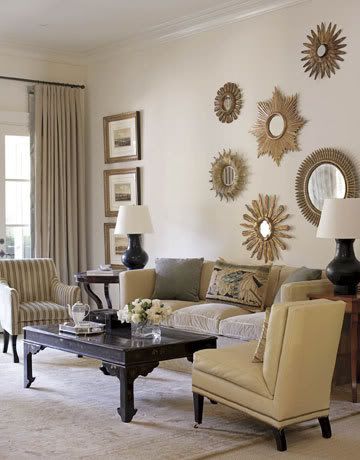 4. Rearrange your furniture – Moving your furniture around in a room is always a great way to quickly give your home a fresh look. In fact, I rearranged my living room furniture just yesterday. It takes no money and very little time, but I feel like I have a whole new room. Even rotating all of your pieces just 45 degrees makes a tremendous impact. That's really all I did, and I love it.
5. Bring the outdoors in – The most foolproof way to let Spring into your home is by adding fresh flowers to your decor. You can do something as simple as picking one beautiful bloom and adding it to a bud base or you can visit your local farmers market or grocery store and pick up a fragrant bouquet. Think outside of the traditional flower vases, and add your new blooms to your rarely used crystal pitcher or a collection of juice glasses. The colors and smells will awaken your senses.
The above photos are all courtesy of House Beautiful. Don't you love that magazine? I sure hope so, because I'm giving away a one-year subscription to the Grand Prize winner of the Five Dollar Challenge! Be sure to finish(or get started on, such is my case) your Challenge projects this weekend…the big reveal is on Monday.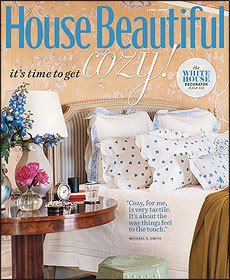 Take the fifteen minutes to make a few changes around your home. They might be the best fifteen minutes you spend all week!
PS. I'm adding this to the Beautiful Life series over at The Inspired Room. If decorating in fifteen minutes and under isn't beautiful, then I don't know what is!