American friends, this is it. Today is the day that the incessent phone calls end.  The day that we'll begin seeing more holiday shopping commercials than political ads.  The day that maybe your Facebook friends will go back to posting pictures of their dinners instead of ranting about this candidate and that issue.
I go out of my way to not talk about two big things on my blog – politics and religion.  And guys, I promise that I'm not going to start now.  But, today is one of those days that I just live for.  You may or may not know that in my pre-kid, pre-house, pre-blog life, I worked in elective politics.  It was a tired, stressful, crazy life, but man-oh-man was it exciting to me.
Even though I left that part of my life behind professionally, it still remains close to my heart.  I eat, sleep and breathe political coverage, and I'm one of the only people in America who is sad that the election is drawing to a close.
So today, I'll act like this:
Tracy Flick from the movie Election
As the day rolls on, I'll get anxious and want to stuff my face with this:
American Flag Cake by Glorious Treats
Once the polls close and the news media starts calling states, I'll wish that I was sitting on this:
Map Settee by Frou Fru Gal
At the end of the night, at least I can rejoice in no longer feeling like this: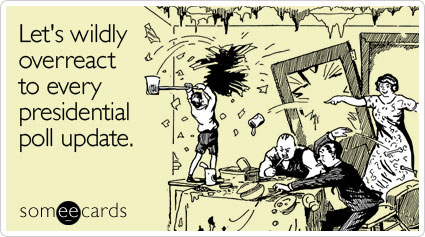 And finally, I can get back to working on this:
Today's an important day.  This is it.
Have you voted already or are your going to vote today?  Let me know – just don't mention who you voted for, because I don't want my comments section to be come as divided as our country.