Looking for a little simple elegance? Look no further than your kitchen sink.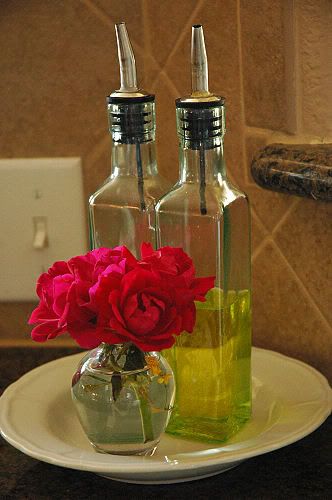 Recently, I decided to finally take the liquid hand soap and dish soap out of their plastic bottles and put them in glass bottles – olive oil bottles, to be exact. The plastic had been cluttering my the counters around my kitchen sink, and I wanted something more.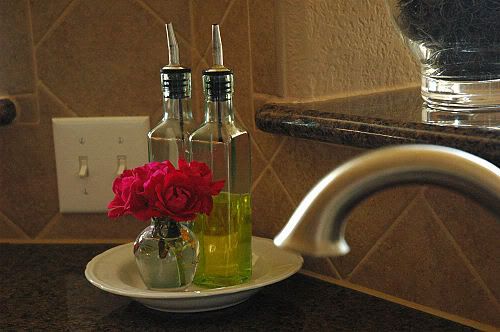 Combined with a classic white dish and a bud vase of fresh roses, my kitchen necessities have become less about function and more about fun.
You can easily bring this look to your kitchen, too.
Find two empty olive oil bottles at a home discount store, a thrift store, or maybe even your local grocery store.
Add liquid hand soap to the first bottle. You will likely need to dilute it with water so that it's thin enough to be poured from the dispenser.
Add dish soap to the second bottle. It should be regular strength dish soap, not concentrated (unless, you choose to dilute it as well, because the concentrated variations have a thicker consistency).
Add fresh flowers to a petite bud vase. I cut my fresh blooms from the plentiful rose bushes in the common areas around my neighborhood (Hey, I pay HOA dues, so I "own" them, right?), but you are a probably a much better gardener than myself and have some in your very own yard.
Set all three on a plain white dish, and you will have a delightful way to display your kitchen necessities.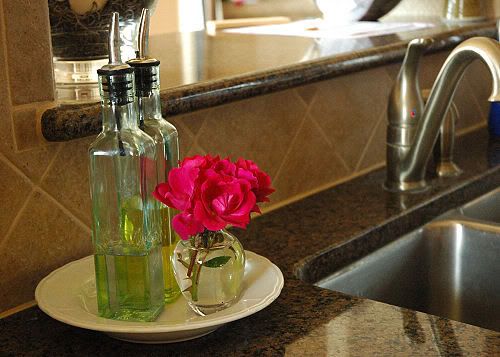 Take the time to add some simple elegance to your home. Why not find an easy way to enjoy the little things in life?