One morning last week, I woke up and decided that something felt heavy. It wasn't my down comforter or the fleece plants that I insist on wearing to bed even when it's 100 degrees outside. Actually, it was the plate display above my head.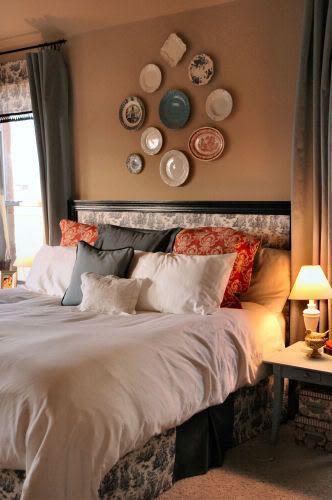 I love this display, but all of a sudden it was just too heavy feeling for this time of year. Does that ever happen to you? You look at something that you've always loved and then just suddenly decide that it needed to go? I do that kind of thing all the time. Please tell me that I'm not alone.
Anyway, I plopped Zack on my bed, turned on Little Einsteins on the Disney Channel, and while still in my PJ's, got to work on rearranging my plate display. I stepped off the bed 30 minutes later and was happy with the result. And hey, look! My photography has gotten better, too!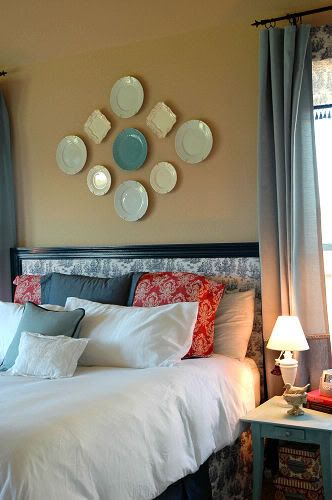 I had all of these plates elsewhere around my house, and I just decided that a display of classic white and off-white plates would bring a crisp and cool feel to the hot Texas summer days.
A plate display like this is so easy! White plates are readily available at yard sales, thrift stores, dollar stores, and even grocery stores. Most of mine were purchased on clearance at Ross for about 50 cents each.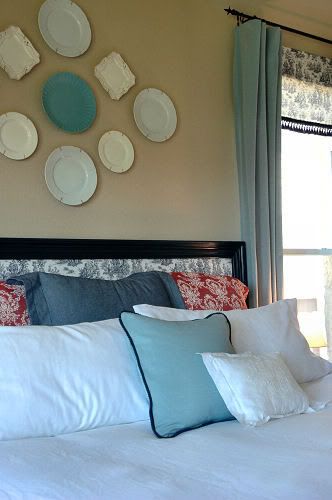 When possible, I like to buy at least two of the same pattern so that I can make a cohesive display.
Do you have anything you can change up for little or no cost to lighten up your decor? Think about it, because I bet you do.
And while we're at it, I've had a lot of requests (especially following my guest post at the Nesting Place) to see my DIY toile headboard. Well, here it is!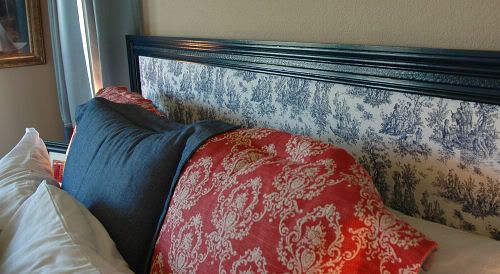 I need to put together a tutorial because it was so easy to make, but I made this before my blogging days and didn't take photos of the process. I'm planning on recreating it on a smaller scale to show you how to do it, but it'll be a few weeks before I can get to it.