When shopping at thrift and discount stores, it's helpful if you can learn to think outside of the color and intended of a particular item and see what it can become. Cheese plates can become dioramas. Homemade student desks can become beautiful pieces of furniture. Discarded cake plates can become pedestals for displaying everyday necessities.
I really needed to use my what-can-it-become eye when I spied this dinosaur lamp at one of my local Goodwill stores.
As you know (and are probably so sick of hearing me talk about that you could just scream), I'm in the process of decorating my son's playroom in a elegant dinosaur theme. Yeah, I know. "Elegant dinosaur" sounds totally fruity, but I'm not into primary colored themed rooms, so this is my way of forcing a playroom to be pleasing to both children and adults.
When I saw the clown-meets-dinosaur lamp, it kind of scared me a little bit. How could it not, right? Then, I started thinking about what I could do with it, and I immediately fell in love. I took it to the cashier and she cheerily said, "Oh, how cute! It just needs to be cleaned up a bit." I thought to myself, "Um, yeah. That's just the tip of the iceberg." I told her I was going to paint it and she gave me a "Oh, thank heavens!" look.
After throwing the too-ratty-to-save shade in the trash, I spray primed the entire lamp with gray primer. Then, because I couldn't decide exactly what color to paint the base, it went through several color variations. I started with Krylon Chocolate Brown, but it was too chocolate-y. Then, I tried a basic black gloss, but it was just a little too boring. I finally settled on Krylon Fusion Chocolate Brown Hammered and it was perfect. I added a black lampshade and the transformation was complete.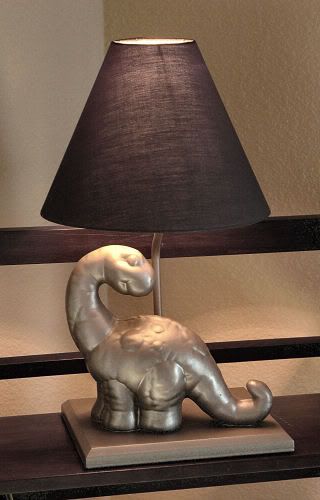 I think the paint color ended up being more bronzed and much less hammered than I expected, but I think it's wonderful. It reminds me of a little dinosaur trophy now.
I added the newly transformed lamp to a little bookcase in the corner of the playroom, and I think it's just the perfect touch.
What great Goodwill find have you transformed lately? What were you able to transform into something unexpected? Tell me about it! Or better yet, join Sarah's Goodwill Party over at
Thrifty Decor Chick
and share your own project!