In just two seconds, you can refresh your home decor and make your home look a little classier. Two seconds. That's about half the amount of time it took you to read this sentence (unless you are super fast reader).
Ready for the quick, two second decorating fix?
Did you see it? It's so fast and easy that you may have missed it. Don't blink or you'll miss it again – Simply take the dust jackets off of your hardback books.
I am positive that my librarian mother-in-law will shudder at what I just asked you to do, but I think removing dust jackets from your books makes a tremendous difference. Books used in your decor, whether they be on a bookshelf or used in a tablescape, look classier and more worldly without the glossy, graphically demanding jacket that is used to grab your attention at a bookstore. When used in your home, books should not demand attention but should blend into your decor and compliment their surroundings.
Here's another example:
Before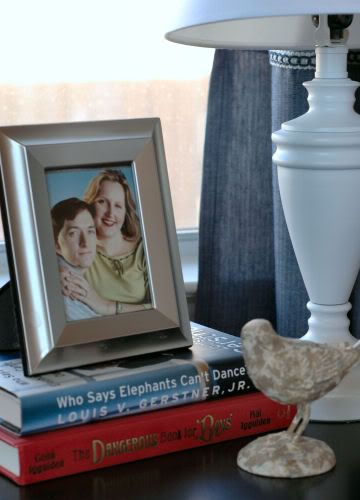 After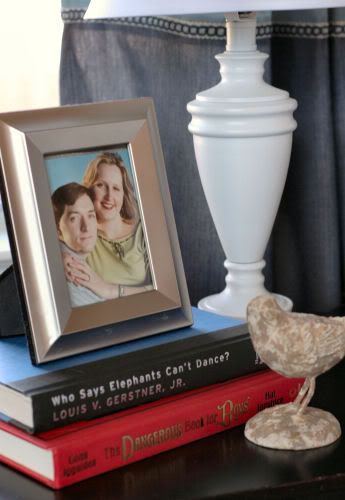 The bottom book wasn't sold with a dust jacket, but the top book's jacket just screams "look at me!" Once it's removed, it looks much nicer on my husband's night stand, don't ya think?
Side note: See that above photo? Yep, that's one of our engagement photos, taken five years ago (our five year wedding anniversary is next month!?!). For some reason, the angle of the photo of the photo (following me?) makes me look deformed. I just wanted to put out there for all of Blogland that I am a perfectly normal looking gal, although I do look kind of freaky there.
Proof: Here's Zack and I on New Year's Eve this year. I have much darker hair now and am actually a lot bit thinner than I was when we got married, but anyhow, that's me. ::waves:: Hi Bloggie friends!
I don't think I've ever shared a picture of myself in Blogland, so I thought this would be a good time.
Okay, back to our regularly scheduled programming…
Removing the dust jackets can also help a series of books to look uniform.
Before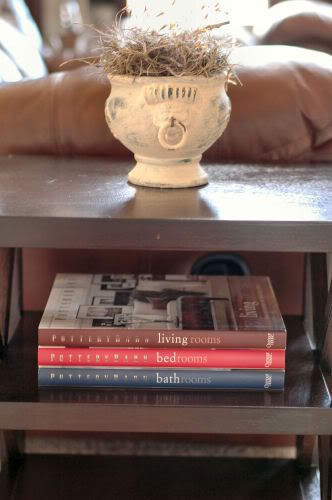 After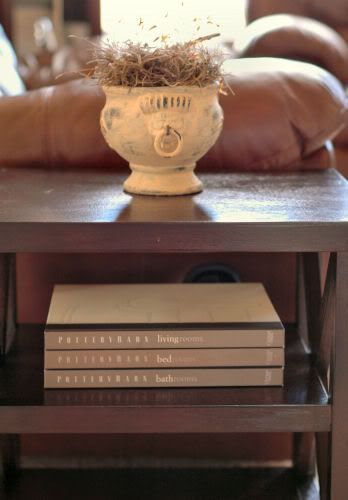 I really like the way these Pottery Barn decorating books look on this shelf. I wanted the primary focus of this table to be the Spanish Moss in the urn, and the dust jackets really took away from that focus. The uniformity of the bare books is just what this table needed.
Isn't that a quick, simple, and free change? Spend a few seconds to remove the dust jackets from your books. You'll be so glad that you did!
Thank you to Kristen at We Are That Family for being the new host of Works For Me Wednesday! Check out WFMW for more great tips on everything from cooking to organizing, laundry to decorating. You never know what you might find!