The day after Christmas, the little table underneath the television in our living room looked like this.
Yikes! Christmas brought a Wii, and a Wii brought a lot of "stuff" with it.
I've mentioned before that I have big plans for the space underneath my TV, but I'm going to need big funds to do it. In other words, it's gonna be a while. This little table is one that simply found a home here when I needed it to hold the DVR box and DVD player. However, the thing I hate about it is all the wires. My good-intentioned husband put that white tubey thing on them thinking that it "hides" them. Um, unless they make invisible tubey things that, in turn, make your wires invisible, that's not gong to work.
So, needing a new solution that would hide the wires and all of that Wii "stuff," I headed to Hobby Lobby. I picked up 3 yards of a neutral colored cotton canvas with the hopes of making a slipcover for the table.
Once home, I cut a piece of canvas large enough to cover the top of the table. I wanted it to hang down just over the edge over the table.
Then, I took the remaining fabric (which was about 1.5 times the width of the table) and attached it to the top cover with pins. The fabric was folded widthwise so that I didn't have to worry about a hem on the bottom edge of the skirt. The selvage edges are at the top where it's pinned. I pinned it on the sides first and then worked towards the little pleat in the front.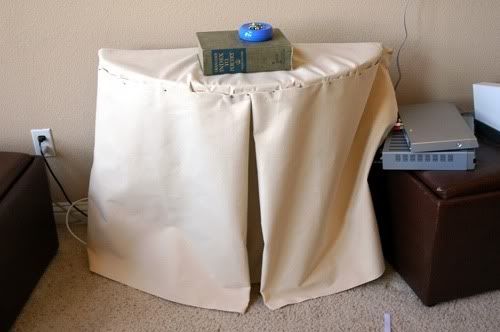 After pinning it, I tried to use iron-on Velcro to attach the skirt to the top piece. That plan failed miserably, as iron-on Velcro just wasn't strong enough to hold the canvas. So, I grabbed my trusty glue gun (really! I did!) and glued the skirt to the top piece. It worked perfectly! I had some grosgrain ribbon on hand, and I just hot glued that on top of my seam. I glued fabric to fabric so I wouldn't have to damage the table itself.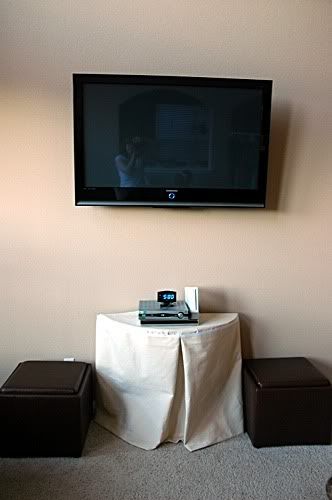 Voila! It's certainly not perfect, but I think it looks much better than all of those cords and wires! Plus, we are able to store our Wii games and accessories under the table, and it's all hidden by a pretty little skirt.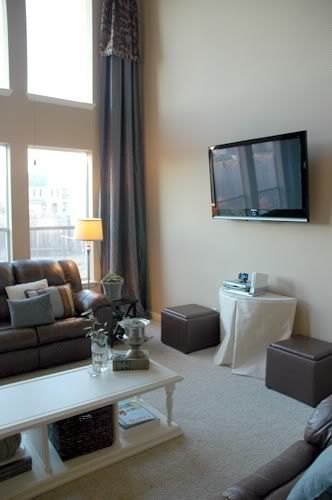 This was incredibly easy to throw together, and now I'm no longer the only one in my house who wears a skirt. Do you think you have a use for something like this in your own home?