On Wednesday morning, my 3-year old son's life flashed before my eyes. I know I generally have a flair for the dramatic, but this time I'm not kidding.
We were having a usual morning that day. I was cleaning the master bath and he was alternatively "helping" me clean and playing with some toys he had brought into the master bedroom. I could hear that he was opening some drawers in my room, but I assumed they belonged to the small, 2-drawer nightstand on my husband's side of the bed (Zack loves playing with the flashlight that we keep in the bottom of the drawer). I didn't want him getting into the drawers and making a mess, but I only had the mirrors to clean and the bathroom would be finished. I decided to ignore his mess for a few more minutes so I could have this chore completed for the day.
I realized that I had left my bottle of Windex on the bedroom floor and needed to grab it. As I walked across the threshold between the bathroom and bedroom, my heart stopped at what I witnessed. At that very second, Zack opened the last of five drawers in my dresser, the top one, and the entire dresser was tipping forward on top of him.
I have never moved so fast in my life as I lunged forward and grabbed the heavy piece of furniture falling on top of my baby. Everything on top of it – picture frames, a glass of water, the baby video monitor – came crashing to the ground. But, my baby was okay. We both started bawling and I scooped him up and started running frantically around the house. My adrenaline was pumping full force, because I knew that I had probably just saved his life.
I'm positive that a guardian angel was watching over Zack that day. It could have been my grandmother, who lost her battle with cancer years before I even met my husband. It could have been my great-grandmother who passed away a few months ago at the incredible age of 99. Or, it could have been Corey, the 2-year old little boy I heard about last year who died in the same type of accident that we just avoided. Regardless of who it was, I am eternally thankful for their presence.
I tried to go on with the rest of my day, but I was shaken to the core. All I could do is think about the 'What Ifs?'. What if I had been taking a shower? What if I had been doing laundry? What if I had been watching TV or sitting in front of my computer? You and I both know that the outcome would quite possibly have been tragic. I have spent the days since hugging him and kissing him and generally not letting him out of my sight.
We have every other large piece of furniture in our house strapped to the wall. Apparently, in our haste to strap everything we somehow forgot to do that dresser when we moved into the house. As luck may have it, that dresser is literally inches away from the bathroom door, so I was able to reach it just in the nick of time.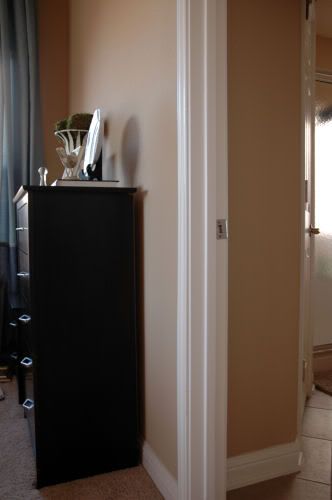 My husband stopped by the hardware store on his way home from work, bought another strap, and strapped that dresser to the wall before he even changed out of his dress shirt. He was just as scared as I was when he received my frantic call that morning.
This whole incident has been a lesson to me in more ways than just making sure my home is safe for my child. Our lives can change in the blink of an eye, and we need to make sure that we are living every moment to the fullest. I think that I have the most wonderful, beautiful, perfect life in the world, and it's up to me to make sure that I remember it every single day.
After what happened on Wednesday, you better believe that it will be a long time before I forget.
Thank you to Melissa for hosting her Beautiful Life series at The Inspired Room. It's been a great way to stop and remember what truly makes life beautiful.