As soon as the Nester announced her Lampapalooza Party, I knew I was game. For starters, I needed to update a few of my lamps and this was a good way for me to move them to the top of my growing To Do list. Also, I'm a sucker for anything ending in -palooza or -a-rama, so she totally knew how to draw me in.
For the -Palooza, I thought it would be fun to give you a little tour of my home by way of some of my lamps and lighting. I'm not very creative when it comes to lamps and refuse to spend much money on them at all. I've always really thought of lighting them more as a necessity than as a piece of decor, but I've recently started to rethink that attitude. You'll see what I mean.
When you walk in my front door, you will see my dining room on the left.
This chandelier was installed by the builder, but they left it with bare light bulbs. After the ugliness of it blinded me for about 6 months, my mother suggested that I buy the little lamp shades that just clip onto the bulbs. Always listen to your mothers, people. They know what they are talking about. Those little shades made a world of difference.
If you continue walking down my entry way, you will pass the kitchen on your left (where DH has finally agreed to let me replace some of the can lighting with a chandelier! SQUEAL!!) and walk into my living room. This room has an extraordinary amount of natural light, given the SIX windows (again, SQUEAL!!), so we only have two lamps. One of them used to be HIDEOUS, but I replaced the shade that made me want to gouge my eyes out with this drum shade a while back and it was a nice change.
I added a chunky gold tassel to it and called it a day.
Then, the gal-who-can't-leave-things-alone got the better of me and added some ribbon that coordinates with my window treatment.
Love it? Hate it? I can't decide. What do you think? I really does coordinate much better than it looks like it does in the photo. The ribbon is just hot glued on (duh, of course it is!), so I can remove it if the Internet decides that is is ugly. I won't be offended if you hate it, because I might think it's ugly myself.
Anyway, to the left of my living room is the breakfast room, where we have another Bald Bulb Builder's Beauty enhanced by some $2 shades.
Side bar: I'm going to pause the tour real quick to show you the bargains I bought yesterday at Wal-Mart.

The ugly green lamps were $3 each (with shades!), marked down from $10. It was cheaper for me to buy the two lamps for their shades than it would have been to buy new shades for my bedroom lamps (that you will see next). Crazy, huh? The buffet lamp was only $5. I think it was originally part of a pair that had been separated (broken? stolen?), and the pair was supposed to be $25. I did pay $10 for the large shade, but you'll see in a bit how I made it beautiful.
Okay, back to the tour. In the bedroom, we have a pair of lamps on our nightstands that have been through a series of transformations. They began as $7 brass thrift store lamps.
They were spray painted white and held shades that were much too large and didn't quite fit the base, so they never sat straight.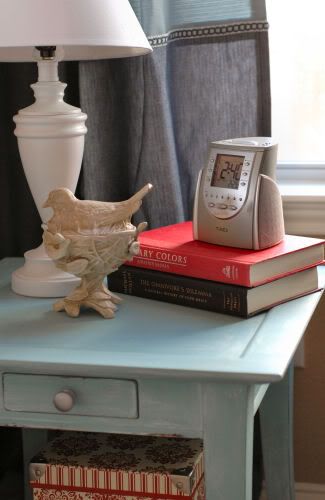 I tried to make them more interesting by covering them with the same toile fabric used on my headboard, but they were so awful that I couldn't even finish adding the trim.
And now, they hold the white shades from the cheap Walmart lamps and sport little tassels I made from leftover window treatment trim and cabinet knobs. I think they finally found their look.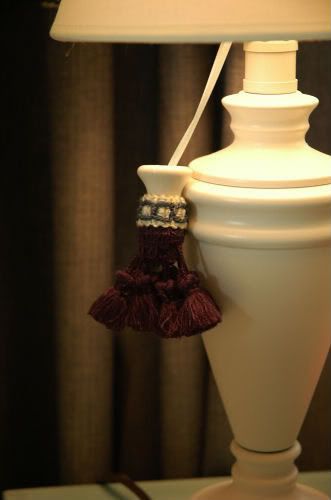 We even have a lamp in our master bath. I mean, wasn't this odd little ledge between our vanities just screaming for a buffet lamp?
Now, it's time to head upstairs. At the top of the stairs is my son's playroom that I've talked about a million times here, here, and here. I added some trim to the cheap Wal-Mart buffet lamp and lamp shade, and I'm happy with the results. It totally reminds me of a grass skirt.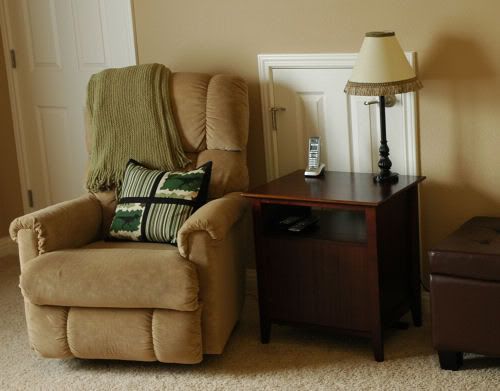 Our last stop in my little home tour is my sewing/crafting/everything room. It's a bit messy, but I simply can't be artistic in a perfectly clean space. Yeah, that's it. That's why it's messy.
One of the first things we did when we closed on this house was to go to Ikea and get this chandelier to install in this room. Tom hung it up for me that night. 🙂 I love how the crystals catch the light.
And on my large crafting table, you will find my Pièce de résistance, my most favorite lamp of all – my vintage white hobnail milk glass lamp. I found at Goodwill for $5. L.O.V.E. I.T. You may think it's ugly, but that would just mean that you are wrong.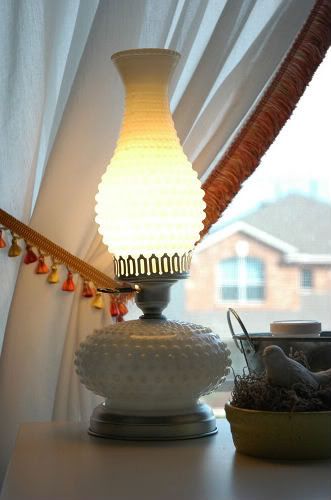 Step back! Don't touch! ::smacks your hand:: No, you can't have it. I will guard it with my life!
Thanks for joining me on my little lamp tour. Do you have tons of lamps? What do you look for when adding new lighting to your home? And don't forget to let me know what you think about the ribbon on the shade in my living room. Something tells me I'll be removing some ribbon tonight.
P.S. Love lamps and need a new beauty in your life? Visit Imparting Grace and enter her Lamp Giveaway! It's a cutie!