Running errands with a toddler is about as easy as herding cats. Those of you who have or have had young children know exactly what I'm talking about. Those of you who haven't reached this phase of your life have absolutely no idea. It's probably better to keep it that way if you think kids are in your future.
All mamas know to bring a few small toys, a sippy cup and a snack when they are running errands. If you didn't realize the vital necessity of these items, you will certainly never forget how much "fun" you had the first time you forgot them. Toddler melt down, much?
I try to get as many errands run in one trip as I can so I don't have to run around town with Zack every day. Trust me when I say that it's better for everyone involved. However, it got to be difficult because after a few stops he'd start complaining that he wanted to go home and would start sassing me, and it was driving me crazy!
I finally realized that Zack didn't understand that we only had a few more stops left to make. It was a concept that he wasn't able to grasp or visualize. One morning, I came up with his very own list of errands we needed to run, complete with pictures representing each store or activity, so that he could "see" what we were doing. It went something like this: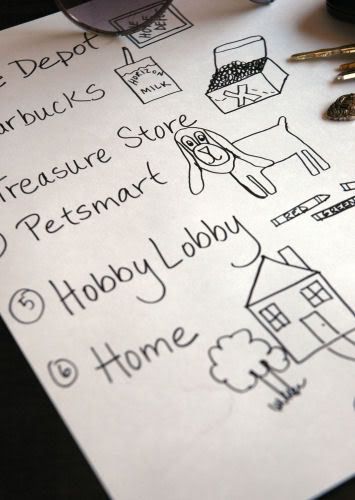 I know you are rolling on the floor laughing at my artwork, so I'll just wait right here until you catch your breath.
Are you done? Okay, great!
I'd certainly never be mistaken as an artist (yes, that's supposed to be a dog next to the Petsmart entry), but it's good enough for my three-year-old. With this list, Zack is able to see the tasks that we need to complete. When we finish an errand, he draws a line through it and tells me what's next on the list. A similar concept could be used for older children who have the responsibility of some chores around the house.
Zack's errand list has made our shopping trips so much easier. Not only is he able to gauge how much longer we have to shop, but also I think it makes him feel like he's participating by helping Mama know where to go next.
Try it next time you need to run some errands. It's guaranteed to make your trip a little bit easier, and I know we all need as much help as we can get! The errand list definitely works for me!
P.S. Also, in case you were wondering, the "Treasure Store" is what we call Goodwill.